U.S. Yields Fall to Record as BlackRock, Vanguard See More Gains
by
Yields have been plunging to all-time lows around the world

El-Erian says 10-year yield can fall to 1.25% 'quite easliy'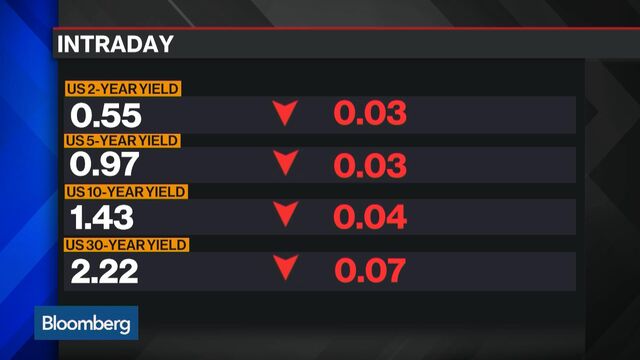 Yields on 10- and 30-year U.S. Treasuries touched record lows, defying forecasters who for years have said they would rise, amid signs that Britain's vote to leave the European Union will curb global economic growth and prevent the Federal Reserve from raising interest rates this year.
Just days before America's 240th birthday, the U.S. 30-year bond yield dropped as much as 10 basis points to an unprecedented 2.1873 percent, while benchmark 10-year yields touched 1.3784 percent. They joined a rally in bonds around the globe as some of the world's biggest investors, including BlackRock Inc., Guggenheim Partners and Vanguard Group Inc., said the Brexit vote means subdued growth and lower yields for years to come.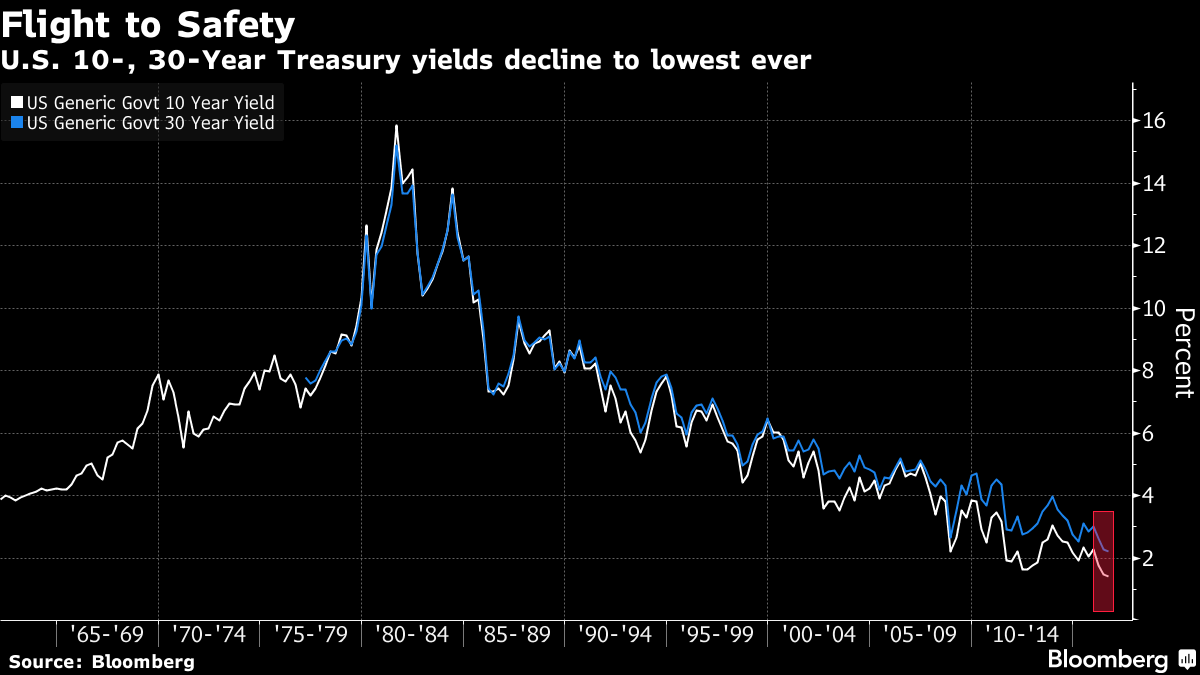 The decline in yields on Treasuries, the world's largest bond market at $13.4 trillion, will affect everything from U.S. mortgages and corporate bonds to borrowing costs for cities and governments around the globe. The rally extends a bull market for U.S. debt that began in the early 1980s, after 10-year and 30-year yields peaked above 15 percent. It comes as central banks abroad are experimenting with negative interest rates to spur their economies, pushing yields on almost $12 trillion of government bonds from Germany to Japan to Switzerland below zero and boosting the relative allure of Treasuries.
"The reason is simple: if you're facing negative interest rates on over 30 percent of government debt, you're going to go look for where you can get positive rates," Mohamed El-Erian, the chief economic adviser at Allianz SE and a Bloomberg View columnist, said in an interview with Bloomberg Television. U.S. 10-year yields "can go to 1.25 percent quite easily if we continue to see this combination of more central bank activism and a slowdown in Europe."
Falling Yields
Benchmark Treasury 10-year note yields dropped three basis points, or 0.03 percentage point, to 1.44 percent at 2 p.m. New York time. They earlier fell below the all-time low of 1.379 percent reached on July 25, 2012, according to Bloomberg Bond Trader data that begin in 1962. The 1.625 percent security due in May 2026 rose to 101 21/32.
U.S. 30-year yields fell to 2.23 percent, less than one basis point away from a record-low closing level. Trading in Treasuries closed at 2 p.m. Friday in New York and will stay shut July 4 in observance of Independence Day, according to the Securities Industry and Financial Markets Association.
Consensus forecasts for higher Treasury yields have been universally wrong since the U.S. recession ended in June 2009. Contrary to expectations, economic growth remains below its 30-year average and some inflation metrics haven't accelerated to the Fed's target even after unprecedented monetary stimulus. Instead, yields have dropped amid worldwide demand for haven assets including sovereign debt.
In more signs of demand for bonds this week:
Yields on all of Switzerland's bonds were below zero, while those on some non-benchmark U.K. gilts also turned negative.
Spanish bond yields touched record lows, as 10-year securities had their best week since 2012.
German 10-year bonds gained for a sixth week, as even sub-zero yields attract investors to the debt.
Japanese 10-year yields posted record-low yields below zero, while yields in Taiwan also touched all-time lows.
The average yield on bonds in the Bloomberg Global Developed Sovereign Bond Index reached a record-low 0.45 percent.
Flight to U.S.
Treasuries returned 5.3 percent in the first half of this year, according to Bloomberg index data, the best two quarters since 2011.
Treasuries "are still relatively high-yielding in comparison to the rest of the world, meaning they have more room to rally," said Seamus Mac Gorain, London-based global fixed-income portfolio manager at JPMorgan Asset Management, which oversees about $1.7 trillion. He said 10-year yields may fall to 1.25 percent in the coming months.
So far, few signs point to a reversal in Treasury yields. Since the Brexit vote, analysts have rushed to alter their expectations for when, or if, the Fed will raise rates. Futures traders have virtually erased bets on a Fed rate increase in 2016 and boosted the chance that the Fed will cut instead. A lower-for-longer scenario encourages investors to buy Treasuries that mature in decades.
Term Premium
With yields so low, bond buyers are leaving themselves little room for error. In the U.S., a metric known as the term premium stands at minus 0.66 percentage point for 10-year notes. The measure, which the Fed uses as a tool in guiding monetary policy, reflects the extra compensation investors demand to hold longer-maturity debt instead of successive short-term securities.
The term premium should normally be positive and has been for almost all of the past 50 years. But since the start of the year, the premium has turned into a discount, suggesting bond investors can't see any risks on the horizon that would push yields higher. The same is true in Japan, Germany and the U.K., where the term premium has gone negative as benchmark yields in all three markets hit all-time lows.
"What you continue to see is the reach for yield, and I don't think that changes anytime soon," said Gemma Wright-Casparius, who handles portfolio decisions and trading for more than $60 billion of U.S. government-debt portfolios for Vanguard. "In a slow-growth, low-inflation environment, people continue to extend along the curve."
The prospect of a Fed rate increase by year-end has slid to about 14 percent, from 50 percent on June 23, fed funds futures data compiled by Bloomberg show.
Bullard Warning
Among those investors calling for even lower rates: Scott Minerd, chief investment officer for Guggenheim Partners, sees yields on the benchmark securities plunging to 1 percent by the end of the year. So does Colin Robertson, who oversees $350 billion as head of fixed income in Chicago at Northern Trust Asset Management. He also says 30-year bond yields may drop to 1.65 percent.
Wright-Casparius at Vanguard said the 10-year notes will trade between 1.25 percent and 1.65 percent. Rick Rieder, BlackRock's chief investment officer of global fixed income, forecasts the same range.
Steven Major, who correctly predicted in October that Treasury yields would decline in 2016 to near-record lows, said investors need to be careful chasing yields lower. While they may go "a bit lower," they'll likely end the year around current levels. 
St. Louis Fed President James Bullard said low rates won't last forever, and when they rise, bond investors need to be ready.
"I certainly see low bond yields and I see an environment when that's likely to continue into the future," Bullard said in an interview with Bloomberg Television. "But there will come a day when productivity in the U.S. will pick up, growth in the U.S. will pick up, and these interest rates will go up, and when that day comes investors have to be prepared."
Treasuries investors have heard that one before.
Before it's here, it's on the Bloomberg Terminal.
LEARN MORE