Tesla Shows Good Headlines Can Still Be Bad News for Investors
Although lately, most news has been bad news.
By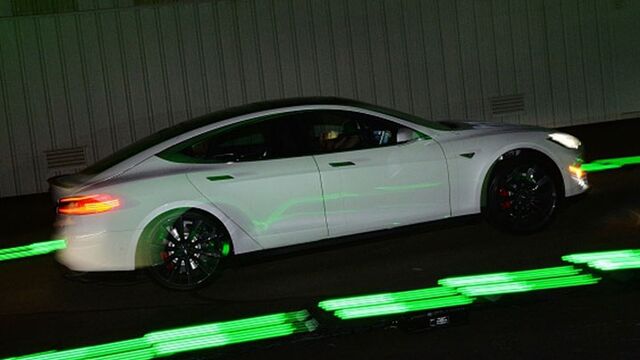 It's been a rough few weeks for Tesla Motors Inc.
Bloomberg's News Sentiment Indicator, which tracks the volume of positive and negative stories about a company, shows the car maker's bad-news count plunging to its lowest level by far since data started being collected. An investigation announced yesterday by U.S. regulators into a lethal crash involving one of the firm's vehicles that was operating on autopilot has helped the gauge of negative sentiment surpass its previous trough, achieved less than a month ago in early June.  

"From the point of view of a financial analyst, I've often felt that understanding cult psychology and social media trends is more important than predicting cash flows in determining where Tesla's share price is going," said Barclays PLC analyst Brian A. Johnson, who has an 'underweight' rating on the stock and price target of $165, which was trading at $213.06 at 1:38 p.m. New York Time.
Yet, as the above chart tracking the firms's share price against the flavor of its media attention suggests, the relationship between news sentiment and investor sentiment isn't necessarily straightforward. Interestingly, Bloomberg's indicator hit its highest level of the year just before Tesla's share price peaked, with the stock losing almost a quarter of its value over the five weeks that followed the flurry of positive reviews for its new Model 3. 
That said, sometimes bad news is just bad news. Chairman and Chief Executive Officer Elon Musk's quest to combine his other company, SolarCity Corp., with Tesla has been widely panned by the analyst community, which previously deemed Musk's production targets to be too ambitious. In fact, Morgan Stanley auto analyst Adam Jonas, Tesla's biggest cheerleader, recently downgraded the company in the wake of its acquisition proposal, saying that this deal would be a drag on the three major drivers of the automaker's share price.
It remains to be seen whether the bad news is now in the price. Shares of Tesla were marginally positive at 1:38 p.m. New York time after erasing earlier losses, but still under-performing peers such as Ford Motor Co. or General Motors Inc.
Before it's here, it's on the Bloomberg Terminal.
LEARN MORE