New EU Clash Looms as Gove, May in No Rush to Trigger Brexit
by and
'We control the timing,' says Justice Secretary Gove

Pushing out Brexit helps markets 'relax:' Bechtel of Jefferies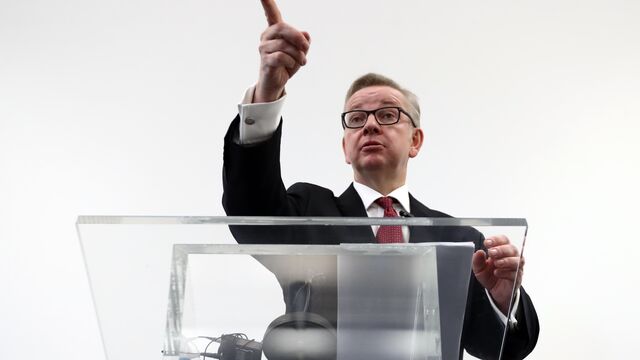 The two front-runners to succeed David Cameron as prime minister set the U.K. on a collision course with European Union leaders after both said they were in no hurry to trigger the mechanism that would start Britain's withdrawal from the bloc.
QuickTake Behind the Brexit Fight
Michael Gove said the legal notification won't be made this year if he becomes prime minister, echoing comments made by Theresa May. The foot-dragging sets up a clash with the 27 remaining heads of government, who said this week that the U.K. needs to move "as quickly as possible" to start the two-year Brexit process.
"We control the timing of when we trigger Article 50, and we will do it when we're good and ready," Gove, the justice secretary in Cameron's government, told reporters in London on Friday as he set out his bid for the leadership of the ruling Conservative Party. He said his government would conduct "extensive preliminary talks" before invoking the article, adding: "We need to make sure we have the best possible deal."
Launching her leadership campaign on Thursday, May, the favorite with bookmakers and the candidate with the most support among Conservative lawmakers so far, said the new government would need to agree on a negotiation strategy first, so "Article 50 should not be invoked before the end of this year."
'Relax, For Now'
After meeting without Cameron in Brussels on Wednesday, EU leaders cited the need "to organize the withdrawal of the U.K. from the EU in an orderly fashion" following last week's referendum vote to quit the bloc. They insisted that the U.K. must give official notification of its intention to leave before negotiations on the details can start.
The pound fell to a three-decade low and markets dropped globally after the U.K.'s June 23 vote to quit the world's largest trade bloc, a result that triggered Cameron's resignation and political upheaval that's unprecedented in Britain's postwar era. European stocks rose on Friday.
"The actual Brexit keeps getting pushed out and the more this happens the more markets relax, for now," Brad Bechtel, a managing director at Jefferies LLC in New York, said in a note to investors.
Gove, who dramatically dashed the leadership ambitions of former Mayor of London Boris Johnson on Thursday by withdrawing his support from his fellow Brexiteer, said the person to guide Britain through the process of leaving the EU should be someone who had campaigned for the change. May, the bookmakers' favorite, backed the "Remain" camp, and Gove highlighted that difference.
"We as a country need to be bold, to step forwards, to believe in ourselves," Gove said, speaking of the Brexit vote as "a hinge in history." He called for a "renewed Britain, optimistic, open to the world, a place of hope and healing."
For a story on old rivalries underlying the leadership contest, click here
With financial markets on edge, the winner of the Conservative contest will have to make some of the most difficult decisions to face any prime minister since World War II, as he or she negotiates a new deal with the EU and oversees an economy at risk of slipping into recession.
Gove echoed May as he said the U.K. would have to be "flexible" over its goal of hitting a budget surplus by 2020, and he promised to make good a "Leave" campaign pledge of diverting money currently sent to the EU to the National Health Service. He said the agency would receive 100 million pounds ($133 million) a week by 2020, short of the 350 million pounds promised during the campaign.
With the Tories rudderless and the opposition Labour Party mired in a split that threatens to topple its own leader, Jeremy Corbyn, the Bank of England signaled it could cut interest rates within months -- to steady an economy about to feel the full force of the Brexit vote. The bank is also set to ease banks' capital requirements as early as next week.
The pound slid 0.9 percent against the dollar after the Bank of England's statement, completing its worst quarterly fall since 2008. It extended losses on Friday, dropping 0.2 percent to 1.328 per dollar at 4 p.m. in London.
'Simply Lucky'
Gove said capitalism needs to be "reformed" and promised extra regulation of London's financial district if he becomes prime minister, without giving details. He said reputable companies have nothing to fear, and brushed aside concerns that U.K.-based financial services may lose automatic access to the wider European market.
"Far too often, the rewards have gone not to risk takers and job creators, but insiders in our financial system and big business who have rigged the market in their interests," he said. "Far too many people in financial services are paid vast fortunes as if they are outstandingly skillful but in many cases they are simply lucky."
Bookmakers have installed May as the favorite. The home secretary portrayed herself as a unity candidate at her campaign launch on Thursday, promising "strong, proven leadership to steer us through this period of economic uncertainty." After backing the "Remain" campaign, May also sought to allay any doubts among "Leave" supporters, saying that "Brexit means Brexit" and there should be no second referendum.
Odds are also shortening on Energy Minister Andrea Leadsom who, like Gove, campaigned for Brexit but is seen as a less divisive figure than the justice secretary.
Gove said he had turned on Johnson after deciding the former mayor wasn't up to the task of steering Brexit.
"I believed that Boris Johnson, who had campaigned alongside me with such energy and enthusiasm, could build and lead that team. I so wanted that plan to work," Gove said. "But I came to realize that, for all of Boris's formidable talents, he was not the right person for the task."
Before it's here, it's on the Bloomberg Terminal.
LEARN MORE