Mack Draws Broad Opposition in Re-Election to LendingClub Board
by
Former Morgan Stanley chief had web of connections with ex-CEO

Meeker, Morris re-appointed by wider margins, filing shows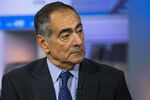 John Mack drew broad opposition from LendingClub Corp. shareholders during his re-election to the board after a leadership shakeup exposed a web of connections between him and the company's former chief executive officer.
About 93 million, or 37 percent, of votes were against Mack's re-appointment, according to a regulatory filing late Friday from the San Francisco-based company. Mary Meeker and John "Hans" Morris, the other directors up for re-election, were approved by wider margins. LendingClub said Tuesday at its annual meeting that all three directors received enough votes, without disclosing tallies.
LendingClub has come under pressure from investors since announcing May 9 that founder and CEO Renaud Laplanche had resigned amid internal reviews. Among the findings were that Laplanche didn't properly disclose his personal stake in a fund that he suggested LendingClub buy into. Mack, who hasn't been accused of wrongdoing, was a co-investor in that fund. Separately, he provided Laplanche with an emergency loan this year when shares the CEO had pledged as collateral plunged in value.
Mack, the former CEO of Morgan Stanley, was instrumental in helping LendingClub build its business of arranging consumer loans online. The company sold shares to the public in late 2014 and briefly attained a $10 billion valuation. The price soon began sliding amid mounting competition, the specter of more regulation and concern the company might not find enough investors to fuel growth.
Since Laplanche's resignation, the stock has fallen 38 percent, giving it a market valuation of about $1.7 billion. On Tuesday, LendingClub updated investors on its efforts to bring loan buyers back to its platform and announced changes to its policies to prevent future conflicts like the ones tied to the former CEO's exit.
Before it's here, it's on the Bloomberg Terminal.
LEARN MORE