Japan Stocks Rise, Tracking Global Equity Gains on Stimulus Bets
By , , and
Topix up 4.2 percent this week, its biggest gain since April

Yen heads for losses this week after spiking on Brexit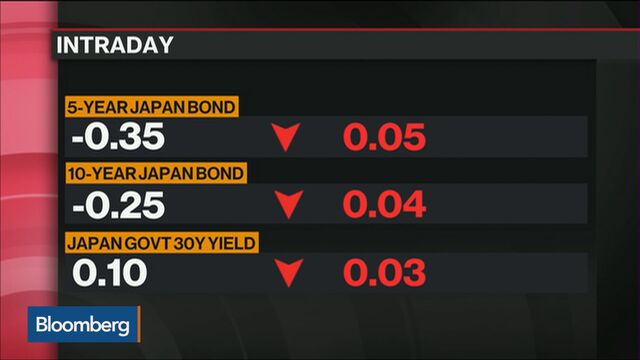 Japanese stocks capped their biggest weekly gain since April as central banks in Europe signaled looser monetary policy, limiting the fallout from the U.K.'s vote to leave the European Union.
The Topix added 0.7 percent to 1,254.44 at the close in Tokyo, up 4.2 percent this week for its biggest such increase since April 15. The Nikkei 225 Stock Average climbed 0.7 percent to 15,682.48. The yen gained 0.5 percent to 102.72 after three days of losses, when the MSCI All Country World Index rose.
The European Central Bank is considering easing rules for bond purchases in its stimulus program to ensure enough debt is available to buy in the aftermath of the Brexit vote. Bank of England Governor Mark Carney also said the authority could cut interest rates within months to shield an economy rattled by the shock of the U.K. decision.
"The mood for more easing is likely to spread around the world, and stock prices are headed up," said Juichi Wako, a senior strategist with Nomura Securities Co. "It's not to say that the crisis has now turned into a blessing, but the heightened sense of urgency among authorities will allow market-favorable policy responses to continue."
Post-Brexit
The Topix plunged 7.3 percent on June 24 after the U.K. public surprised global markets by voting out of the EU. Investors dumped risk assets in favor of havens, such as the yen, bonds and gold, sending volatility in Japanese equities surging. The Topix is 3.4 percent lower than the June 23 close, before the Brexit results.
Still, stocks are benefiting with the yen gradually paring gains as speculation grows for further easing after the country's top policy makers and the Bank of Japan expressed concern over the tumult in financial markets. Takako Masai, who joined the BOJ's board on Thursday, echoed worries over excessive moves in foreign-exchange markets, saying they pose a risk for economic activity.

Data on Friday underscored the challenges facing Prime Minister Shinzo Abe and BOJ Governor Haruhiko Kuroda as they attempt to pull Japan out of a deflationary malaise and achieve the distant 2 percent inflation goal. Japan's May core consumer prices fell 0.4 percent from a year earlier, after declining 0.3 percent last month. Household spending dropped 1.1 percent from last year.
Tankan Survey
The Tankan index of confidence among large manufacturers, a key barometer for business sentiment in Japan, was unchanged at 6 for the quarter ended June, compared with 15 a year ago. A positive number means there are more optimists than pessimists among manufacturers.
"The Tankan itself isn't bad," said Yoshihiro Okumura, general manager at Chiba-Gin Asset Management Co. Still, "their currency rate assumption is 111 yen to the dollar so if you think about the current business sentiment, you can't deny that it's become worse. We do want some kind of action to come from the authorities."
About three shares rose for each that fell on the 1,954-member Topix, with drugmakers and chemical producers providing the biggest boosts to the measure.
Sysmex Corp. climbed 5.3 percent. The medical equipment maker says it increased its stake in Riken Genesis Co. in a bid to expand its foray into genetic research. 


Nitori Holdings Co. rose 7.9 percent after Nomura Holdings Inc. increased its target price on the furniture retailer, saying the company will benefit from a delay in the sales-tax increase.


Takata Corp. slid 6.1 percent after the U.S. government advised owners of 313,000 recalled Honda Motor Co. and Acura vehicles to replace their Takata air bags after testing showed there's as high as a 50 percent chance of rupture in a crash.


Before it's here, it's on the Bloomberg Terminal.
LEARN MORE