Japan's Prices Keep Falling in Challenge to Abe, Kuroda
By and
Large manufacturers' confidence holds in Tankan survey

Household spending drops in May for third consecutive month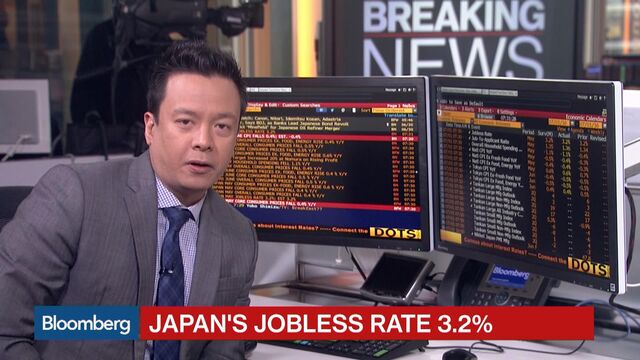 With a little more than a week until Japan goes to the polls for an upper-house election, a batch of economic data released Friday underscores the challenge Prime Minister Shinzo Abe faces in convincing voters that his policies are working.
Consumer prices excluding fresh food fell for a third straight month and household spending declined, undermining efforts to revitalize the world's third-largest economy. While corporate confidence and unemployment were unchanged, there is still little pressure for higher wages.
Friday's data followed reports earlier this week showing that industrial production fell more than economists had forecast and retail sales were flat in May, adding to concern that Japan's recovery may be faltering after the economy returned to growth in the first quarter. The U.K.'s vote to leave the European Union has strengthened the yen and roiled financial markets, increasing risks to corporate earnings for Japanese companies.
The data will put more pressure on Bank of Japan Governor Haruhiko Kuroda to expand monetary stimulus at the policy meeting later this month, especially with the stronger yen and the central bank far from its 2 percent inflation target.
'High Chance' of Easing
"Given concerns over the effects of the Brexit vote and the strengthening yen, there is a high chance that the BOJ will ease further at its July meeting," said Hiroaki Muto, chief economist at Tokai Tokyo Research Center in Tokyo. "If the BOJ doesn't move this time, there's a possibility that the yen will strengthen further."
The Topix index dropped about 9 percent in June, plunging on June 24 with the Brexit vote, the most since the aftermath of the 2011 earthquake. The yen strengthened about 8 percent against the dollar in June.
More than 95 percent of the responses to the Tankan corporate confidence survey came in before the results of last week's Brexit vote so it doesn't really reflect the impact of that vote, according to Ko Nakayama, head of the economic statistics division at the BOJ.
Friday's economic indicators show that:
The Tankan index among large manufacturers held at 6 (versus forecast at 4) in June. A positive number means there are more optimists than pessimists among manufacturers.
The Tankan index among large non-manufacturers fell to 19 (matching forecast at 19) in June from 22 in March.
Overall CPI fell 0.4 percent in May (vs. a decline of 0.5 percent forecast) from a year earlier.
Core CPI, the BOJ's benchmark measure, which excludes fresh food, declined 0.4 percent in May ( a 0.4 percent drop forecast) after dropping 0.3 percent in March and April. At that level, it's exactly where it stood when Kuroda began his stimulus strategy in April 2013.

Household spending dropped 1.1 percent in May from a year earlier (matching the 1.1 percent drop forecast), following a 0.4 percent decline in April.
The unemployment rate was unchanged at 3.2 percent in May (versus 3.2 percent forecast).

The job-to-applicant ratio was 1.36 (versus 1.35 forecast), indicating a tight employment market.

The Brexit vote could first affect Japanese companies with ties to the U.K. According to a report by Tokyo Shoko Research on June 23, there are 343 Japanese companies doing business in U.K. including wholesalers, banks and office services.
Some analysts said they are more worried about the price trend after seeing the CPI report than they had been in previous months.
"My view was that prices will turn positive between October and December, but now I'm not sure," said Hideo Kumano, chief economist at Dai-ichi Life Research Institute in Tokyo. "The inflation outlook continues to be tough because a higher yen has a big impact on prices. Plus, chances are slim that the BOJ will hold an emergency meeting after looking at this Tankan."
Pressure on BOJ, Abe
Friday's economic data also is expected to heighten pressure for more easing at the BOJ meeting July 28-29.
In the summary of opinions from the BOJ's June 15-16 policy meeting released on June 24, one BOJ member said "there are signs of a need for caution with respect to achieving the price stability target." If it becomes more likely that the timing of reaching the CPI target of around 2 percent will be delayed, the BOJ will need to reiterate its commitment to achieving the goal to the public and market by taking additional monetary easing measures, the member said.
The data showing weakness in confidence and spending may also increase pressure on Abe and his government to soon provide fiscal stimulus as a way to boost the economy. Toshihiro Nikai, chairman of the ruling Liberal Democratic Party's general council, called for 20 trillion yen ($195 billion) of government stimulus, the Nikkei newspaper reported on June 28.
"The fruits from Abenomics, which depended on a weak yen policy, have gone away," Muto said. "The government will probably have a large increase in spending in autumn" to boost the economy.