Japan Economy Shows Another Lackluster Month, in Dilemma for BOJ
by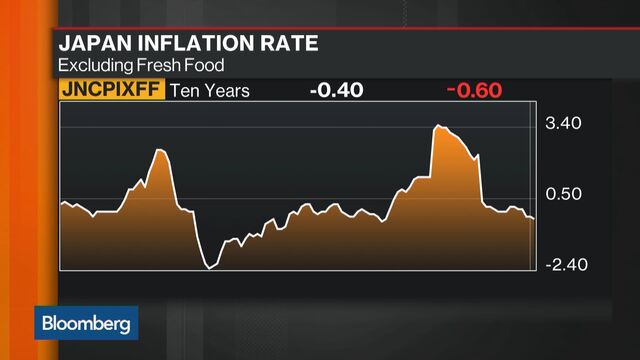 Abenomics isn't dead, but it's a long way from vitality.
That's the takeaway from economic data for May that wrapped up with a slew of releases Friday. For the Bank of Japan, the indicators underscore a looming choice for Governor Haruhiko Kuroda to either step up monetary stimulus, adjust his 2 percent, two-year inflation target, or suffer a hit to credibility.
The highlights:
Industrial output and exports fell even before the latest gains in the yen that undermine Japan's competitiveness
Consumers won't spend: retail sales and household spending stagnated, even with job growth
By any measure, inflation is moving further from the BOJ target; excluding fresh food, prices fell 0.4 percent from a year before
Manufacturers' confidence held steady, though the Tankan survey was almost wrapped up by the time the Brexit turmoil emerged
More than three years into his second turn as prime minister, Shinzo Abe's reflation project has -- by at least some gauges -- pulled Japan out of trenchant deflation, boosted the number of full-time jobs to a level exceeding the average for any year since 2009, and stoked corporate profits. At the same time, Japan's gross domestic product still regularly dips in and out of contraction, showing the economy's potential hasn't really shifted as a result of his embrace of monetary and fiscal stimulus.

Politically, Abe has yet to suffer any setbacks, with opposition parties failing to organize themselves to take on the Liberal Democratic Party that's dominated postwar Japan, despite a widening wealth gap and disenchantment with the BOJ's surprise adoption of negative interest rates earlier this year. Polls show Abe's ruling coalition maintaining its majority in a July 10 election to the upper house of parliament.
For the BOJ, the May data suggest the economy slowed in the second quarter from its 1.9 percent annualized pace in the first three months of the year, though didn't fall off the rails. The bigger concern is a steady appreciation in the yen that's set to cut the cost of imported goods -- restraining inflation -- and undermine the case for Japan's companies to invest domestically and boost their employees' pay.

Although capital investment plans were revised higher in this quarter's Tankan survey, "these projections are of very limited use," according to Capital Economics Japan economist Marcel Thieliant, who wrote that companies generally raise these in the second quarter. In addition, "there are few signs that tight labor market conditions are boosting price pressures," he wrote after the data was released.
Here are more detailed takeaways from the May data:
The trade balance fell back into deficit as a drop in exports to the U.S., EU and China counteracted the fall in import costs due to a stronger yen and cheaper energy.
After contracting 2.3 percent in May, industrial output is forecast to rise more than 1 percent in June and July.
The job-to-applicant ratio climbed to a new record, with 1.36 jobs for every new applicant. This has been pushed up by increasing demand and also the falling population, which reduces the pool of new job seekers.
Excluding energy costs, inflation rose 0.6 percent in May from a year ago nationwide, and was up 0.4 percent in Tokyo in June.
The Tankan index among large non-manufacturers fell to 19 from 22 last quarter.
Large companies across all industries will increase capital investment by 6.2 percent this fiscal year, up from the previous quarter.
The indexes for small companies fell, and the outlook for next quarter was lower again.
Watch Next: Watling: Weak Economic Data Shows Abenomics isn't Working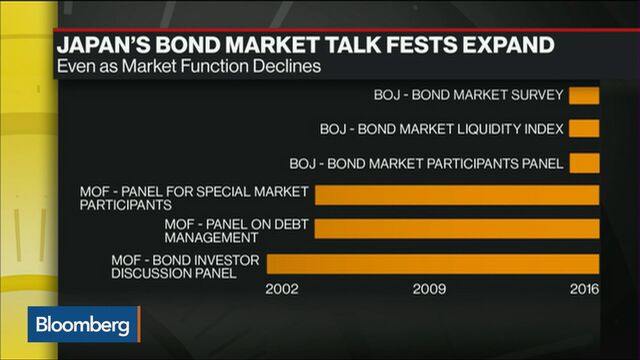 Before it's here, it's on the Bloomberg Terminal.
LEARN MORE