Gundlach Beats Stocks With $1 Billion Shiller-Themed Fund
by
DoubleLine Shiller Enhanced CAPE combines two value strategies

Stock and bond mutual fund has beaten 90% of its peers in 2016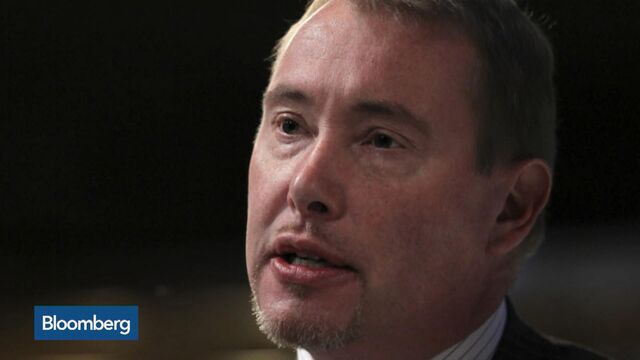 Team a top-ranked bond manager with a Nobel Prize-winning economist, and you might just have a shot at beating the stock market.
That's what DoubleLine Capital, co-founded by bond investor Jeffrey Gundlach, did for its DoubleLine Shiller Enhanced CAPE fund, the firm's biggest mutual fund that's measured against the S&P 500 Index. The fund places most of its money in a fixed-income portfolio run by Gundlach and co-manager Jeffrey Sherman, while using swaps to invest in large-cap equity sectors that are undervalued based on an index devised by economist Robert Shiller.
"It's a double-value proposition," Sherman, 39, who was named Gundlach's deputy chief investment officer on June 1, said in an interview at the DoubleLine headquarters in Los Angeles.
The combination has worked well since the fund started in October 2013, producing annual returns in excess of 3 percentage points above the stock market. Those gains, combined with inflows in every month since its inception, pushed the fund above $1 billion in assets for the first time in June.
The DoubleLine offering is part of the growing array of so-called smart beta funds that seek to beat indexes by employing rules-based methods to pick holdings. The Shiller Barclays CAPE US Sector Index, which selects the stock sectors and serves as a benchmark, has consistently outperformed the S&P 500 since 2012, when it was first marketed.

DoubleLine Shiller Enhanced CAPE has beaten 90 percent of its equity large-cap value peers this year after leading 97 percent in 2015 and 99 percent in 2014, according to data compiled by Bloomberg. It's up 7.5 percent this year.
"Many investors these days want to put products in their portfolios that have a clearly enunciated and documented simple strategy, rather than rely so much on the reputed but possibly inconsistent investing of highly paid hedge fund managers," Shiller, the Nobel Prize-winning Yale University professor, said by e-mail.
Shiller's cyclically adjusted price-earnings, or CAPE, ratio was devised in 1988 with John Campbell, now an economist at Harvard University. The CAPE strategy outperformed the market in Shiller's analysis that looked at returns from 1883 to 2012.
Four Sectors
Using Shiller's method, the DoubleLine fund invests equally each month in four of the 10 S&P 500 industry sectors, starting with the five most undervalued and then filtering out the one with the worst momentum. For June, its picks were consumer-staple, health-care, industrial and technology companies. The fund pulled out of energy in September 2014 and dropped the financial sector in March of that year. The consumer discretionary and material sectors have fallen in and out of favor more recently, while the fund avoided utilities and real estate since inception.
On top of the equity portion of the fund, the fixed-income parts have also added to its outperformance since inception. The fund's fixed-income portfolio is positioned for low volatility by focusing on short-duration debt while steering clear of the high-yield market, according to Sherman. Its average effective duration is about 1.6 years, compared with about 2.8 years for the DoubleLine Total Return Bond Fund, the firm's $60.7 billion flagship fund run by Gundlach and Philip Barach, and more than 5 years for the Barclays U.S. Aggregate Bond Index.
Jason Kephart, a Morningstar Inc. analyst who focuses on alternative strategies but doesn't cover the DoubleLine fund, said the advantages of such stock-bond combos can become a drawback if both the stock and bond portions underperform simultaneously, as happened to some funds in 2008.
"Do you want the extra risk of a bond strategy that can detract potentially from the performance of the equities?" said Kephart, speaking about such funds in general. "The funds will say this is kind of the alpha on top of the index. But that's not guaranteed."
DoubleLine's fixed-income record, along with Gundlach's performance at his prior employer, TCW Group, through the 2008 financial crisis, should give investors confidence in the team's ability to navigate market cycles, Sherman said.
Investors added a net $693 million in inflows to DoubleLine's mutual funds in June, the firm reported Friday.
DoubleLine Shiller's fixed-income portfolio tends to reduce losses during market declines, while adding 1 to 2 percentage points to annualized returns above its benchmark index after fees and expenses, according to Sherman.
"In a low-return world, that's big," he said.
Before it's here, it's on the Bloomberg Terminal.
LEARN MORE