Gove Makes Case for U.K. Premiership After Johnson Betrayal
By and
Theresa May is main rival in five-way Tory leadership race

'I know my limitations,' justice secretary tells reporters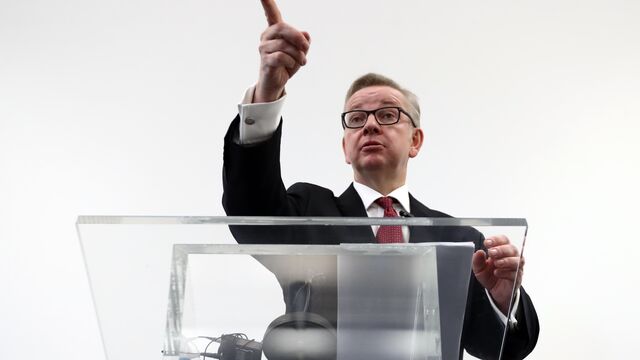 Justice Secretary Michael Gove made his case to be Britain's next prime minister after breaking with the incumbent and then betraying the onetime front-runner. He vowed to end free movement and make the U.K. a fairer place as it leaves the European Union.
In a maneuver that smacked of a plot line from the "House of Cards" television series, Gove torpedoed the leadership ambitions of fellow Brexiteer Boris Johnson on Thursday, four months after opposing Prime Minister David Cameron by joining the "Leave" camp in the European Union referendum campaign. Now his sights are set on Home Secretary Theresa May, the early favorite, and three other candidates to head the Conservative Party and the country.

In a speech to reporters in London, Gove argued that the best person to be prime minister in the wake of the electorate's decision to leave the EU was someone who had campaigned for Brexit. May, the bookmakers' favorite, backed the "Remain" camp, and Gove highlighted that difference.
"We as a country need to be bold, to step forwards, to believe in ourselves," Gove said, speaking of the Brexit vote as "a hinge in history." He called for a "renewed Britain, optimistic, open to the world, a place of hope and healing."
With financial markets on edge, the winner of the Conservative contest will have to make some of the most difficult decisions to face any prime minister since World War II, as he or she negotiates a new deal with the bloc and oversees an economy at risk of slipping into recession.
Gove said he didn't expect Article 50, which sets the exit process in motion, to be triggered this year.
Alongside Gove and May, the other candidates are Work and Pensions Secretary Stephen Crabb, Energy Minister Andrea Leadsom and former Defence Secretary Liam Fox. Tory lawmakers will whittle the shortlist down to two, in a series of votes due to start on Tuesday. Then, party members nationwide -- who are seen as more Euro-skeptic than the lawmakers -- will make the final choice.
And They're Off: Tory Leadership Runners and Riders
Hours after his announcement on Thursday, Gove used a BBC interview to skewer Johnson for his inability to build a team and portray himself as the conviction politician the country needs to negotiate a Brexit. On Friday, he reiterated denials that he's only going for the job because he sees no other option.
"I am so very reluctant," he told reporters Friday. "I know my limitations." He said he's standing "as the candidate for change."
With the Tories rudderless and the opposition Labour Party mired in a split that threatens to topple its own leader, Jeremy Corbyn, the Bank of England signaled it could cut interest rates within months -- to steady an economy about to feel the full force of the Brexit vote.
The pound slid 0.9 percent against the dollar after the Bank of England's statement, completing its worst quarterly fall since 2008. It fell further Friday and was down 0.3 percent at $1.3268 at 11:46 a.m. in London.
Bookmakers installed May as the favorite. The home secretary, who backed the "Remain" side in the referendum, gave an assured campaign launch on Thursday, portraying herself as the candidate who can unite the party and provide "strong, proven leadership to steer us through this period of economic uncertainty."
'Reform Capitalism'
The justice secretary said he has a vision to build a more dynamic economy and a fairer society, with "more decent" public services. "We must think how we can reform capitalism," he said.
"Far too often, the rewards have gone not to risk takers and job creators, but insiders in our financial system and big business who have rigged the market in their interests," he said. "Far too many people in financial services are paid vast fortunes as if they are outstandingly skillful but in many cases they are simply lucky."
Gove repeated a pledge to "end free movement, introduce an Australian-style points system for immigration and bring numbers down."
And he reiterated a promise from the referendum campaign to spend some of the money saved from leaving the EU on the state-run National Health Service.
"I will take all the steps necessary to give the NHS at least another 100 million pounds ($133 million) per week by 2020," Gove said.
May won the support of the influential Daily Mail. "It Must be Theresa," the newspaper declared on Friday's front page. She also has the backing of 79 Tory lawmakers so far, according to a tally on the Conservative Home website. Crabb has 22, Leadsom 14, Gove 13 and Fox nine. The party has 330 members of Parliament.
Rivals in U.K. Tory Leadership Battle Have Acrimonious History
The home secretary kept a low profile during the referendum campaign, and moved swiftly on Thursday to allay any doubts among "Leave" campaigners that she might seek to row back on the country's verdict.
"Brexit means Brexit," she told reporters. "There must be no attempts to remain inside the EU. No attempts to rejoin it through the back door and no second referendum."
Next came Johnson's announcement that he was stepping down -- his plans wrecked by Gove, who'd been running Johnson's campaign until he decided to stand himself.
Three Hours That Turned Boris Johnson From Winner to Also-Ran
Johnson, Britain's most flamboyant mainstream politician, provided a major boost to Brexiteers when he decided to back their cause and become its highest-profile campaigner. He'd been a proven election winner for the Tories, twice claiming the mayorship of a city that predominantly votes Labour. But some senior Tories saw personal ambition behind his referendum role.
Gove said he had turned on Johnson after recognizing that "while he has great talents and great abilities, he was not equipped to provide the team captaincy and the leadership that the party and the country require at this point."
Former Chancellor of the Exchequer Kenneth Clarke called on Gove to pull out of the race, telling BBC Radio 4 on Friday: "You should have the trust so far as possible of your colleagues."
Meanwhile, the opposition Labour Party is embroiled in a crisis of its own, as Corbyn clings to power despite an overwhelming vote of no-confidence from his own lawmakers, and a mass defection from his leadership team. Labour's parliamentarians are now seeking a single unity candidate to take him on in a leadership challenge, with his former business spokeswoman, Angela Eagle, touted to lead the charge. She was non-committal in a BBC interview, urging instead that Corbyn should go of his own accord.
"He's been asked to stand down and at the moment we want him to consider his position and do what is right in the interests of the party," Eagle said. "So, over to you, Jeremy."
Before it's here, it's on the Bloomberg Terminal.
LEARN MORE