Five Things You Need to Know to Start Your Day
Get caught up on what's moving markets.
by and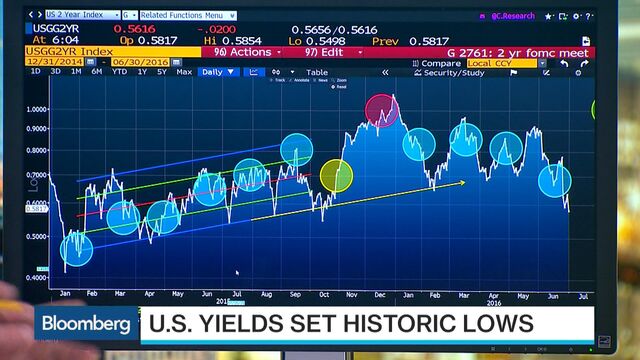 Want to receive this post in your inbox every morning? Sign up here.
U.S. Treasury yields hit record lows, the U.K.'s political drama continues, and markets are rising. Here are some of the things that people in markets are talking about today.
Treasury yields
Yields on U.S. 10- and 30-year Treasuries hit new historic lows this morning, as bonds across the world surged. In Europe, Spanish yields also hit a record low while Italian bonds rose. The European Central Bank is said to be looking at changing the rules of its asset-purchase program to increase the securities it's eligible to buy as rising bonds push more yields below the bank's deposit rate.
U.K. Conservative Party's leadership contest
Yesterday, U.K. politics progressed at breakneck speed with Justice Secretary Michael Gove — formerly a trusty ally to "Leave" campaign figurehead Boris Johnson — declaring his own candidacy and forcing Boris to back out of the race by noon. With all five candidates for Tory party leadership now clear, Friday looks to be calmer. All of them including the favorite, the formerly "Remain"-inclined Theresa May, have emphasized that they'll work toward an orderly divorce from the European Union, dimming financial markets' hopes that a Brexit can be averted. Sell any sterling rally because "Brexit is for real," Bank of America Corp. strategists have said, targeting a GBP/USD rate of 1.25 sooner rather than later. There's also an election to look forward to in Australia on Saturday. 
Carney signals easing
"Some monetary-policy easing will likely be needed over the summer," Bank of England Governor Mark Carney said in a televised address Thursday, a statement that is fueling bets of a rate cut and quashing the rally in the pound. As some of his key defenders in government rule themselves out of a Tory leadership bid, he took the opportunity to rebuke those who said he'd overstepped the line in warning of economic distress ahead of the vote. "What we said in terms of the risks to the economic outlook, in terms of the risks to financial stability — does anyone in this room not think that those risks have begun to manifest?," he asked.
Euro area unemployment falls, manufacturing rises
Unemployment in the euro area dropped to 10.1 percent, the lowest level in almost five years, with Spanish unemployment falling below 20 percent for the fist time in six years. Manufacturing PMI for the currency zone increased to 52.8 according to London-based Markit Economics. Manufacturing in the U.K. rose to 52.1, its fastest pace in five months, with all survey responses received before the U.K. vote to leave the European Union.
Markets on the rise
Global equities continue their ascent this morning as central bank easing expectations increase. The MSCI Asia Pacific Index rose 0.6 percent overnight, with Japan's Topix index gaining 0.7 percent for its biggest weekly gain since April. In Europe, the Stoxx 600 Index was 0.2 percent higher at 5:05 a.m. New York time, with London's FTSE 100 Index gaining 0.3 percent. S&P 500 futures were down 0.4 percent. 
What we've been reading 
This is what's caught our eye over the last 24 hours.
Before it's here, it's on the Bloomberg Terminal.
LEARN MORE