Fischer's Wait-and-See Approach Makes Case for No July Fed Hike
by and
Brexit another shock for Fed that is trying to raise rates

Fischer says signals in U.S. economy have been pretty good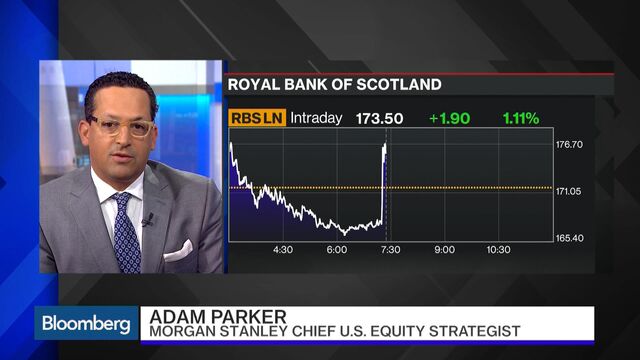 Federal Reserve Vice Chairman Stanley Fischer made a strong case for policy makers to do nothing at their July meeting, following the U.K.'s vote to quit the European Union.
Ever since they raised interest rates in December, U.S. central bankers have been caught in an uncomfortable place with their communication: They want to hike again, but they have taken a pass in four consecutive meetings this year. Fischer's comments in an interview Friday on CNBC are "consistent with a Fed that would likely remain in a cautious, wait-and-see mode at the July meeting," said Michael Hanson, senior global economist at Bank of America Corp. in New York.
"The challenge is there are always these shocks, and the backdrop of broader structural trends -- from low productivity to an aging demographic -- are making policy more uncertain," Hanson added. "Uncertainty makes central bankers go slow."
Fischer raised several uncertainties he and the members of the Federal Open Market Committee will face when they meet July 26-27.
Brexit Fallout: Understanding how the U.K.'s exit from the European common market could affect the region could take a long time, he suggested.
Still Evaluating
"We got hit by something. We are still evaluating it," he said on CNBC. "My guess is that it will be less important for the U.S. than the countries directly involved -- almost just logically so. We will wait and see." Brexit "clearly is a huge event for the U.K. and it's an important event for Europe," Fischer said.
U.S. Employment: He called the May employment report, when the U.S. added just 38,000 jobs, "very negative." U.S. central bankers are counting on consumer spending to power the economy while weak investment spending is adding little to growth. Continued job gains are critical to rising incomes and a consistent pattern of spending.
Productivity: He noted that productivity growth in the U.S. is low, and higher rates of output per hour are needed for the Fed to continue to raise interest rates and get the economy on a stronger growth trajectory. The problem is that monetary policy can't do anything about that except keep rates low to encourage investment.

"We've done everything we can and we've got achievements on employment," Fischer said. "We can run as good a monetary policy as we like but we will not have a direct influence on productivity growth."
Fischer's appearance marked his first public comments on the economy and monetary policy since March 7.
Longer-term Treasury yields fell to record lows Friday following the release of weaker-than-expected Chinese manufacturing data and deepening political turmoil in the U.K. following the June 23 referendum.
The U.K. vote to leave the EU has dashed investor expectations of a federal funds rate increase this year, following a hike in December that marked the first in almost a decade.
Hiking Odds
Investors see a nearly 80 percent chance that the FOMC will leave rates unchanged at its next two meetings, with the odds of a rate cut slightly higher than that of a hike, according to prices of options on eurodollar futures contracts. The FOMC's next gathering after July is Sept. 20-21.
The Fed vice chairman also said reports other than employment show the U.S. economy "has done pretty well."
"Now, you can't make a whole story out of a month and a half of data, but this is looking better than it had before, so as we consider the effects of Brexit, we have to put that effect on the U.S. together with what else is going on in the U.S. economy," he said. "I hope that we strengthen, and that the economy strengthens, and that we continue along this slow, very gradual path we've been on."
Before it's here, it's on the Bloomberg Terminal.
LEARN MORE