Drinks
How to Make a Frozen Watermelon Margarita
Next up in our 12 Cocktails of Summer series: summer's best fruit
By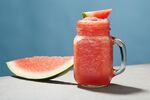 Few things are as quintessentially summery as watermelon: Swollen to perfect ripeness in July and August, crisp, juicy, and cool to the tongue, it makes for an unbeatable post-beach snack or a lawn-chair dessert. Yet watermelon's place in the cocktail canon is almost nonexistent; when it does appear, it tends to be in the undesirable form of a flavored vodka. The reason is the fruit's high water content—about 92 percent—which throws off the dilution ratios bartenders like to work with, disrupting the balance and concentration of flavors.
The solution is a basic kitchen appliance at which cocktail bartenders once turned their noses up: a blender. This method is deployed to brilliant effect by bar consultant Jeremy Oertel and the team at Gilligan's at SoHo Grand Hotel in New York, where they created a frozen watermelon margarita that is the cocktail equivalent of a summer blockbuster.
The recipe couldn't be simpler—comprising things you likely have around the house for July 4th weekend: tequila, triple sec, lime, sugar, watermelon, ice. Dump into the pitcher, blend, and serve. "We wanted to make a drink that was going to crush it," said Oertel. By all accounts, they succeeded: It's by far the most popular order at the bar, which goes through dozens of watermelons a week to keep up with demand. "It's super-refreshing and goes down really, really easy."
For bonus points, lay a watermelon slice on top of the glass's mouth and sprinkle it with salt, sugar, and cayenne paper (2:1:1, to be exact) to make a savory-sweet amuse-bouche to munch before the first sip. If some spices fall into the glass, even better. This is the kind of drink that encourages you to take life's pleasures as they come.
Ingredients:
1.5 oz blanco tequila
1 oz lime juice
.5 oz triple sec (Combier orange liqueur recommended)
.5 oz simple syrup
5 or 6 pieces watermelon
1 cup ice, roughly
Add everything to pitcher, blend till frozen, serve in mason jar, Old-Fashioned glass or whatever's handy. Crazy straw, optional.
Before it's here, it's on the Bloomberg Terminal.
LEARN MORE