Christie Halts Roadwork With No Deal on Raising New Jersey Gas Tax
By and
State senators balk at cutting sales tax as part of plan

Republican governor had reached deal with Assembly, not Senate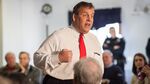 New Jersey Governor Chris Christie ordered state-funded transportation projects to stop after senators failed to act on his roadwork-financing plan, which would lower the sales tax in exchange for a higher gasoline tax.
The order, issued late Thursday, requires plans for an "immediate and orderly shutdown" of projects financed by the Transportation Trust Fund to be prepared by July 2. It doesn't apply to federally funded work. The state will exhaust its five-year, $8 billion capital budget for roads and mass transit in August, according to the order.
Christie, a Republican with 18 months left on the job, negotiated a transportation-spending plan with the Democrat-controlled Assembly that would cut the sales tax to 6 percent from 7 percent as a condition for his approving a 23-cents-per-gallon increase in the gasoline tax. While that measure passed the Assembly Monday night, it has less support in the Senate, also led by Democrats. The plan would blow a $1.6 billion hole in the state budget by 2019, according to the nonpartisan legislative services office.
"Senate Democrats are clearly conflicted over how to appease their public and private-sector union masters," Christie, 53, said in a prepared statement released Thursday night. "In order to protect the health, safety, and welfare of the citizens of this state, it is necessary that the remaining amounts held by the TTF not be spent on any transportation project that is not absolutely essential."
No Work
Senate President Steve Sweeney, a Democrat from West Deptford, has said he was committed to an earlier proposal that left the sales tax untouched and funded transportation at $20 billion over 10 years.
"Why throw people out of work before they need to be?" Sweeney said Friday in a telephone interview. "A lot of these guys are construction guys living week to week."
Sweeney said he didn't know how many workers would be furloughed. Brian Murray, a spokesman for Christie, said in an e-mail Friday that he was unable to immediately provide a list of projects affected, and the dollar amounts.
Safe Stoppage
Stephen Schapiro, a transportation spokesman, said the department and New Jersey Transit are "in the process of identifying projects and developing plans to safely cease work." The order affects TTF-funded projects at any stage of development, including design, construction and procurement, he said Friday in a statement.
"Safety is the top priority," he said. "Any emergency work that may arise that affects public safety, such as emergency bridge work or repairing a downed traffic signal, will be done as necessary."
Christie has said the Senate transportation-spending plan favored by Sweeney doesn't go far enough to create "tax fairness." To offset the gas-tax increase, it would phase out the estate tax, establish an income-tax reduction for charitable contributions and increase exemptions for retirement income.
The governor has no public schedule today. He is scheduled to leave this weekend for a vacation in Italy, according to NJ.com. Assembly Speaker Vincent Prieto said Thursday he also will be on vacation next week. Sweeney said he will be in the Statehouse Friday and is willing to discuss a possible compromise.
"The Assembly has passed a bill and remains willing to compromise - as long as it's a bill the governor will sign into law," Prieto, a Secaucus Democrat, said Friday in a statement.
Before it's here, it's on the Bloomberg Terminal.
LEARN MORE