Carney Propels FTSE 100 to Best Week Since 2011 After Brexit
by and
U.K. index was biggest gainer in developed markets in June

While bullish sentiment is intensifying, midcaps suffer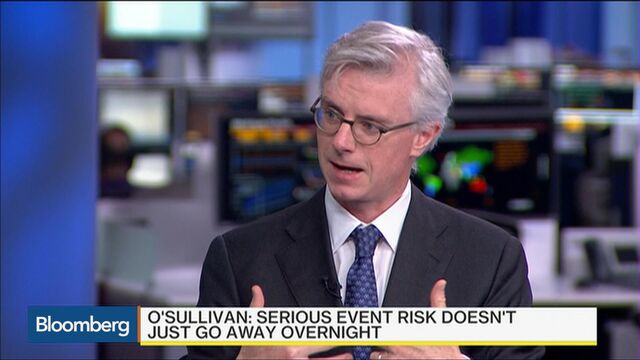 Somehow, Brexit has been a blessing for U.K. megacaps.
Supported by the plunging pound, the FTSE 100 Index -- loaded up with multinational commodity producers, drugmakers and banks -- has recovered after its post-Brexit tumble. More than that, Mark Carney's reassurance that the Bank of England will loosen policy sent the gauge to its highest level since August. It climbed another 1.1 percent on Friday.
HSBC Holdings Plc and Citigroup Inc. have raised their ratings on Britain's biggest companies, while JPMorgan Chase & Co., Societe Generale SA and Deutsche Bank AG are among those bullish on the stocks. The FTSE 100 posted its best week since 2011, and hedging costs are near their lowest levels of the year relative to regional peers.
"What a fantastic week for the FTSE 100," said Yogi Dewan, the chief executive officer of Hassium Asset Management in Gerrards Cross, U.K. His firm, which manages about $1 billion, sold European stocks to buy U.K. and U.S. shares immediately after the vote. "Who would have thought last Friday morning that I'd be saying this. We did think the selloff was overdone and that there was a very obvious currency story, but it's the effectiveness of central banks that has made it such a measured and orderly reaction."

After an initial plunge in the two days following the referendum, the FTSE 100 rebounded 10 percent for its biggest four-day jump since 2008. In his second televised address since Britain chose to leave the European Union, BOE Governor Carney said on Thursday the central bank is ready to act to safeguard the economy. The European Central Bank is also considering loosening the rules for its bond purchases, euro-area officials familiar with the discussions said.
Perhaps the reason why the market recovered so quickly is because investors were already very skeptical before Britain's ballot: They'd withdrawn money from U.K. equity funds in eight out of nine weeks, according to a Bank of America Corp. report dated June 23 citing EPFR Global data. The market has been the most underweight by global fund managers for most of the past nine years.
"It's not like we were in a very bullish market before the vote, so the potential for disappointment was nowhere near as big as in 2008," said Dewan. "Maybe it was just the uncertainty that was holding people back."
A gauge of expectations for FTSE 100 swings has tumbled 42 percent since its high last month, more than the drop in the VStoxx Index of euro-area shares. The cost of hedging against U.K. equity volatility in the next three months is about 25 percent lower than for the Euro Stoxx 50 Index, data compiled by Bloomberg show.
While the market has shaken off concerns quickly for large companies, U.K. midcaps -- more sensitive to the domestic economy -- are still far from erasing their losses. The FTSE 250 remains 5 percent lower than on June 23 amid growing concern over the nation's outlook. Almost three quarters of economists in a Bloomberg survey expect Britain will slip in a recession.
"The mid to small caps will have a tough time," said Charles de Boissezon, co-head of European equity strategy at Societe Generale SA. "The FTSE 100 is not really a U.K. index, it's an index of companies that are listed in the U.K. but a very large portion of them are international businesses. The FTSE 100 will keep outperforming in the coming weeks."
Before it's here, it's on the Bloomberg Terminal.
LEARN MORE