Carney Brexit Response Prompts Quick Rethink of Rate Forecasts
By
Economists react to Carney comments that more stimulus needed

Policy makers announce next interest rate decision on July 14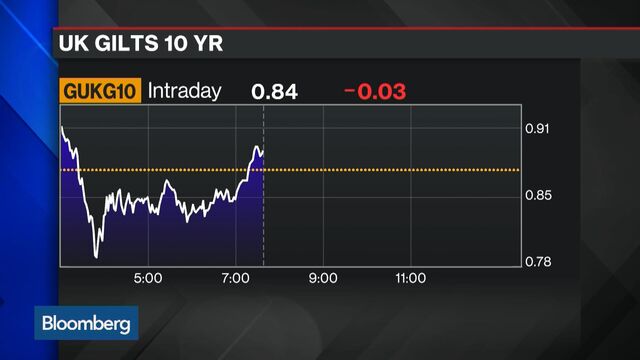 Mark Carney's rapid response to Brexit has caused an equally quick re-think of economists' interest-rate forecasts.
While some had already penciled in looser policy, the Bank of England governor's comments on Thursday cemented the view that easing is on the way. Economists at Nomura, Pantheon Macroeconomics and Scotiabank all published research on Friday saying the first rate change in more than seven years will be a cut, while two of them also predicted more quantitative easing.
Britain's decision to split from the European Union has roiled markets, rattled investors and sparked chaos among Britain's political classes. Nearly three quarters of economists in a Bloomberg survey expect the vote to tip the economy into recession, and there are early signs the fallout is impacting confidence.
Carney, who has already pledged additional liquidity to shore up banks, said the economic outlook had deteriorated and some monetary-policy easing would probably be needed over the summer. Investors see a 71 percent chance of a rate cut in July, up from 34 percent the day before the governor spoke.
"Although financial conditions have not tightened to the extent that a material slowdown is undeniable, the committee is confident enough to be setting up a summer rate cut," Nomura economist Philip Rush said in a note to clients. "As such, we are crystallizing the risk to our BOE call that the BOE could go earlier."
Next Decision
Nomura now expects a cut of 25 basis points in August and continues to expect bank rate to reach zero in November. The bank is likely to begin QE in February 2017, Rush said.
The Monetary Policy Committee announces its next decision on July 14, and will produce new forecasts alongside its subsequent policy announcement in August. Carney said Thursday those meetings should be considered as "as a bit of a package" alongside the bank's Financial Policy Committee announcement on July 5, when the governor will also give a press conference.
Scotiabank economist Alan Clarke said policy makers are likely to cut the bank rate to zero over the coming months, with the MPC either lowering the key rate by 50 basis points in July or implementing a cut of 25 basis points in July and another in August. He also forecast the central bank would revive its QE program in August.
Any loosening would be its first since July 2012, when it last expanded its asset purchase program. The key interest rate has been at a record-low 0.5 percent since March 2009.
JPMorgan also said it expects the bank to bring rates down to zero, with cuts in July and August. Pantheon Macroeconomics economist Samuel Tombs predicts that bank will cut rates to 0.25 percent in August, when it has more information on how the economy is faring.