Photographer: AFP via Getty Images
Brexit Emboldens Calais to Demand Brits Take Their Border Home
by
Local politicians want new border accord; government says no

Migrants divided on how vote affects prospect of reaching U.K.
Brexit is a major mealtime subject at the Khyber Darbar Restaurant in the "Jungle" camp in Calais, France.
The several thousand migrants camped out around the northern French port, seeking to cross over to Britain where they have family or think they can get work, are trying to make sense of the U.K. vote to leave the European Union.
"Some are happy because they think that if Britain is out of Europe the border will move to Dover," according to the restaurant's manager, Sikander, a 33-year-old who says he fled Peshawar in Pakistan to avoid the Taliban. "Others fear the border will be shut even more. Some think that so many people will make it to England there will be no jobs left."
For the politicians in Calais and many of the French city's residents there is no such confusion. They see the vote as an opportunity to renegotiate the 17-year-old bilateral agreement between the two countries that maintains the U.K.'s border with the continent in France -- something the French government says it won't ask for.
"To behave as if the referendum changes nothing is astonishing," said Xavier Bertrand, head of the northern region of France, which includes Calais. "It's up to the English to assume their responsibility. They've made a political change. We too want a political change."
Touquet Accords
The border is governed by the so-called "Touquet accords" signed in July 1999, and updated in 2000, 2003 and 2007. Unlike an airline traveler who first meets a British customs official upon landing at Heathrow, passengers and vehicles at Calais go through all their U.K. security and other checks on French soil before entering the Channel tunnel or riding a ferry.
Migrants without requisite visas are blocked from traveling to the U.K. But French authorities can't deport them, either because France lacks the necessary accords with their countries of origin, or because they are from war-torn regions. So the migrants end up staying in the camp in Calais.
"We can't take this any more," Calais Mayor Natacha Bouchart said. "We've had enough. We need to re-negotiate the agreements with the U.K. We want a camp opened in Britain."
Visible Symbol
If the British electorate's decision to leave the EU revolved around the question of immigration, then the never-ending saga of the Calais migrants is one of its most obvious and visible symbols. 
Migrants have camped out around the French port since the 1990s, seeking to climb aboard trucks about to board ferries or be loaded on trains crossing through the tunnel. Over the years, the town's outskirts have become a mesh of migrant camps, with rings of barbed wire fences going up around the port and the Eurotunnel entrance. French police have dismantled camps only to see them re-sprout elsewhere.
"The reality is that the departure of the U.K. from the EU leads to no change whatsoever in the border between the two countries," Interior Minister Bernard Cazeneuve said Wednesday after meeting local leaders from the Calais region. "Because of the bilateral agreements, the border with Calais is controlled and will remain so."
No More
Still, some French cabinet members have called for Britain to assume a greater burden.
"It's obvious the political context has changed," Economy Minister Emmanuel Macron said June 27 during a visit to northern France. The Brexit vote "re-opens these subjects and we're justified in being more demanding of our British partner." In March, Macron had warned that in case of Brexit "the migrants won't be held in Calais anymore."
That's something that businesses in Calais say they'd love to see. 
"They can have all the migrants," said Jean Loup, who runs a cafe near the Jungle's current location alongside dunes near to the port, complaining about garbage and crime he blames on the migrants. But he said he doesn't expect much change. "Europe couldn't sort this out with 28, so I don't see why they will with 27."
The Jungle, which began with migrants sleeping rough on the outskirts of Calais, has taken on aspects of a more permanent settlement, with restaurants in wooden-frame structures festooned with names such as "New Kabul," "London Bread," and "Jungle Book." Residents have decorated the outskirts of their homes, and the 7.5 hectare site is increasing divided into ethnic "neighborhoods" for its mostly Afghan, Sudanese, Eritrean, and Ethiopian inhabitants.
European Symbol
Cazeneuve said there are about 4,400 people left in the camp after the police dismantled a part of it in March. Aid workers said there are about 6,000 inhabitants. That's a tiny percentage of the estimated 300,000 to 400,000 undocumented immigrants in France, but the Jungle and the often spectacular attempts to storm the Eurotunnel entrance have turned them into a symbol of Europe's inability to control immigration.
Hamed, a 29-year-old Bangladeshi, said he's been trying to cross over to Britain for 10 months and hopes the French police will now be less diligent. Assad, a 21-year-old from Darfur said he arrived just a week ago and is so distressed by the heavy security that he said he may give up and apply for asylum in France. Gabriel, a 26-year-old from Ethiopia, has been in the camp for a year and says he's heard rumors the border will be closed.
Aid workers at the camp say they don't know what to advise the migrants.
"From our point of view, there's no reason to make any changes to our activities," said Anne Lise, who runs Medecins Sans Frontieres' operations in the camp. "In or out of the EU makes no difference."
Frederic Van Gansbeke, who runs a chain of sandwich shops in Calais and is head of a local association of shopkeepers, said Brexit voters were duped.
"Brexit voters were told they could better control immigration," he said. "But the Channel isn't going to move. They'll wake up and discover they were sold a big a lie."
Watch Next: Why Brexit Might Not Happen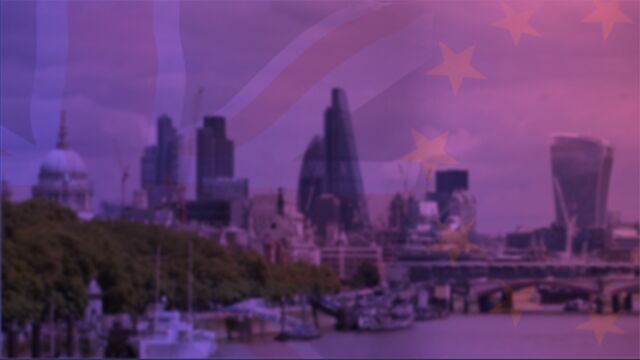 Before it's here, it's on the Bloomberg Terminal.
LEARN MORE