Australia Votes as Turnbull Calls for Post-Brexit Stability
by
Former banker is up against ex-union leader Shorten's Labor

Election result may be known as early as Saturday night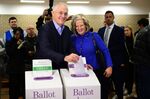 Prime Minister Malcolm Turnbull is seeking another three-year term for his Liberal-National coalition in Australia's election Saturday, telling voters he can steer the world's 12th-largest economy through global headwinds and a fading commodities boom.
More than 15 million Australians are casting ballots, with 150 lower-house seats and 76 spots in the Senate up for grabs. While opinion polls put the government and the opposition Labor party virtually neck and neck, Turnbull is defending a comfortable majority and is the bookmakers' favorite to win. If the result is clear cut, a winner may be declared as early as Saturday night.
The eight-week campaign has been fought primarily over economic issues, with Turnbull, saying his government offers the best hope of stability as the U.K. vote to leave the European Union continues to buffet markets. The former investment banker is pledging to cut taxes for small businesses and crack down on union corruption, while Labor leader Bill Shorten, 49, is promising increased funding for health and education.
Turnbull, 61, will be seeking a clear mandate from voters after seizing control of the Liberal Party from unpopular predecessor Tony Abbott in September. Corporate Australia is demanding long-term reforms, including an overhaul of the tax system, to boost growth, while many voters want him to steer a more socially progressive path that includes tougher action on climate change and allowing same-sex marriage.
"A Turnbull victory looks very likely; he's got a buffer of seats and he's run a pretty disciplined election campaign," said Australian National University political analyst Andrew Hughes. "A lot of the focus will be on whether his win is comfortable. If he just squeaks home, there will be questions from within his own party whether he is the one to lead them forward."
Australians are weary of political upheaval after the nation churned through six prime ministers in eight years. Still, a conservative rump in the coalition, already unhappy that Turnbull ousted Abbott, is concerned he may try to enforce his more liberal views if he secures a convincing win.

Polls opened at 8 a.m. and close at 6 p.m. local time across the country. A Fairfax-Ipsos survey conducted June 26-29 has the coalition and Labor deadlocked on 50 percent. A Newspoll published Saturday gave the coalition a slim lead, at 50.5 percent to Labor's 49.5 percent. Still, betting markets show the government is favored to win, with online bookmaker Sportsbet offering to return A$1.14 on every successful A$1 bet for the coalition. A Labor win will pay A$5.75.
Should it be re-elected, the government will do everything in its power "to safeguard Australians and Australian business from the risk of any external shock flowing from Britain's vote," Turnbull told reporters on June 30. "The aftermath of the Brexit vote is only one of a range of factors driving uncertainty and apprehension in a fragile global economy."
Australia, the world's most China-dependent developed economy, is seeking new drivers of growth after prices for its iron ore and coal exports plunged, cutting government revenue. While annual growth has accelerated toward its 30-year average of 3.2 percent and unemployment has fallen to 5.7 percent, Australians don't feel richer, with wage growth at a rate last seen a quarter century ago and core inflation slowing to the weakest pace on record.
'Economic Leadership'
When Turnbull contested the leadership in September, he said Abbott wasn't "capable of providing the economic leadership we need" and pledged "leadership that respects the people's intelligence." Yet since he took over, some voters say he's failed to deliver, both on economic and social issues, including legislating for same-sex marriage.
"Turnbull in particular was very pro same-sex marriage and then he backtracked," said Bernie Smith, 43, a flight attendant who voted for the Greens in the Labor-held Sydney district of Grayndler. "Labor and the Liberals, I believe, have been too gutless to come up with any change" on the issue, Smith said. The traditional Labor voter said he switched to the Greens on concern that Shorten's pledge to strip away tax breaks for property investors may cause house prices to fall.

Shorten, a former union leader, has attacked Turnbull's government and described it as divided. "Since Malcolm Turnbull became prime minister, he has disappointed people," he told reporters on June 30, accusing him of leading "a small target government."
Havana Ellis-Vega, a 19 year-old student and first time voter, picked Labor in the southern Sydney district of Watson, a traditionally Labor lower house seat. One issue swaying her choice was cuts to vocational education, "which is my pathway to life," she said. "I don't think it is fair that we have to take that fall."
If Turnbull wins, eyes will turn to the make up of the Senate. Since 2013 a group of independents and micro-parties have held the balance of power, blocking A$13 billion of budget savings and complicating government efforts to rein in a deficit forecast to reach A$37.1 billion ($27.6 billion) next year.
"I don't think he's done a fantastic job up to date, but I think that's because there are a lot of restrictions in the Senate in terms of what he can and can't do," said Silvia, a 51 year-old Liberal voter in Turnbull's district who works in education and declined to give her last name. "I'm hoping that people this time around have voted for the major parties and not the minor parties."
Despite Turnbull amending voting laws, the new Senate may remain eclectic, with populist firebrands including former soldier Jacqui Lambie, anti-Muslim immigration campaigner Pauline Hanson and controversial broadcaster Derryn Hinch tipped to win upper-house seats.
The Greens, which now hold 10 Senate seats, are likely to remain a significant force, and a new party led by South Australian independent Nick Xenophon is forecast to pick up as many as four.
"The Senate is the great unknown in this election," according to Hughes from the ANU. "Even if Turnbull's government is returned, it may find his legislative agenda is again frustrated in the upper house."
Before it's here, it's on the Bloomberg Terminal.
LEARN MORE