Apple in Exploratory Talks to Buy Jay Z's Tidal, WSJ Reports
by
Jay Z bought music streaming service for $56 million in 2015

Apple's music streaming offering built around Beats Music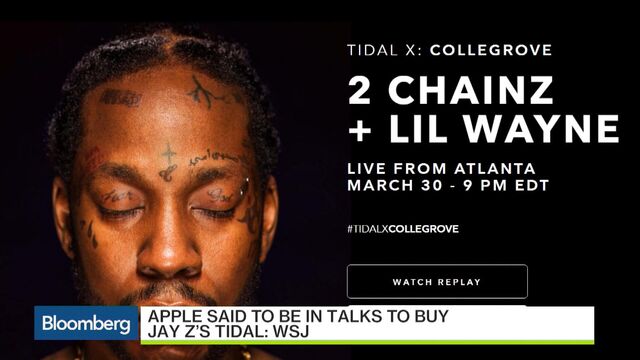 Apple Inc. is in preliminary talks to buy Tidal, the music-streaming service largely owned by musician Jay Z, the Wall Street Journal reported, citing unidentified people familiar with the discussions.
The newspaper said the talks may not result in a deal. Representatives of Apple and Tidal declined to comment on the report.
Acquiring the smaller competitor might give Apple access to exclusive music from high-profile artists ranging from Beyonce to Rihanna, and help attract subscribers to its own service. The company this month revamped Apple Music, which was introduced a year ago to lukewarm critical reception. Tidal trumped Apple earlier this year in securing the rights to be the first to stream Kanye West's album "The Life of Pablo."
Tidal has endured a troubled year since Jay Z bought its parent company for $56 million in March 2015. In a letter sent three months ago, the entrepreneur accused Tidal's Norwegian seller, Schibsted ASA, of overstating subscriber numbers. Tidal said in March it had more than 3 million paying subscribers, versus Apple's 15 million and Spotify Ltd.'s 30 million.
Tidal has replaced its top management several times since the acquisition, and an attempt to sell the service to Samsung Electronics Co. collapsed, Variety reported in March.
It's hard to see how Apple Music and Tidal complement each other, said Olivier Nusse, chief executive officer of Universal Music France.
"The streaming business is a very competitive market," Nusse told Bloomberg News on the sidelines of the Viva Technology conference in Paris on Friday. "If, suddenly, they're beginning to buy each other, this is not good."
Before it's here, it's on the Bloomberg Terminal.
LEARN MORE