Abenomics a 'Wasted' Opportunity, Says Japan's Opposition Chief
by
Democratic Party's Okada says Abe's policies have failed

Prime minister framing July 10 election as vote on Abenomics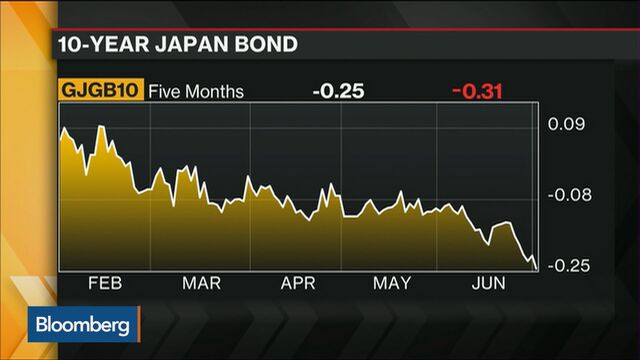 A week before a national election, the leader of Japan's main opposition party said Prime Minister Shinzo Abe had wasted "3 1/2 years of precious time" in power by failing to implement much-needed structural reforms.
Democratic Party chief Katsuya Okada said Abe had failed to capitalize during that time on a "favorable environment" of a weak yen and a stock market buoyed by unprecedented central bank easing.
"Structural reforms have not progressed at all," Okada, 62, told reporters in Tokyo on Friday. "In that sense, Abenomics has been a failure."
Even so, Okada acknowledged that Abenomics -- a salvo of bold monetary easing, fiscal spending and a growth strategy fired by Abe on coming to power in late 2012 -- had succeeded in some areas such as helping to increase the number of people with jobs. Yet he added that the strengthening of the yen in recent months and a volatile stock market means that Abe has lost an opportunity to consolidate the nation's finances and revamp the social security system.
For a QuickTake on Abenomics, click here.
Abe has sought to frame the July 10 election for the less powerful upper chamber as a chance to vote on his economic platform. While he's expected to win the election and maintain the ruling coalition's majority, the Democrats are cooperating with parties such as the Communists to prevent the ruling parties from gaining a two-thirds majority that would let him start a process to revise the U.S.-imposed pacifist constitution.

Abe said on June 19 that his eponymous package of economic policies is "incomplete," yet has made some progress in moving the world's third-largest economy out of deflation.
Survey Responses
About 61 percent of respondents to a Mainichi newspaper poll last month said they wanted Abe to reexamine his economic policies, compared with 23 percent who didn't see the need for a change. The same survey showed that 35 percent would vote for the ruling Liberal Democratic Party or its coalition partner Komeito, while 21 percent said they supported either the Democratic, Socialist or Communist parties.
While the LDP has dominated post-war politics in Japan, they were replaced by the Democrats from 2009 to 2012. During this period, the party tried to cut unnecessary spending and introduce free high school tuition, yet were ousted by Abe after a rash of party infighting and policy flip-flops under three leaders.
"There were things that weren't done in the weak yen era, and that will become a matter of regret as we move forward," Okada said. "When we were in power, we suffered from a strong yen due to the financial crisis, and compared to that, this has been a favorable environment for reform."
Before it's here, it's on the Bloomberg Terminal.
LEARN MORE