markets
A Week Later, Credit Investors Are Shrugging Off Brexit Anxiety
By
Credit risk recovers, borrowing costs plummet to records

'Feels like nothing has happened' as central banks take action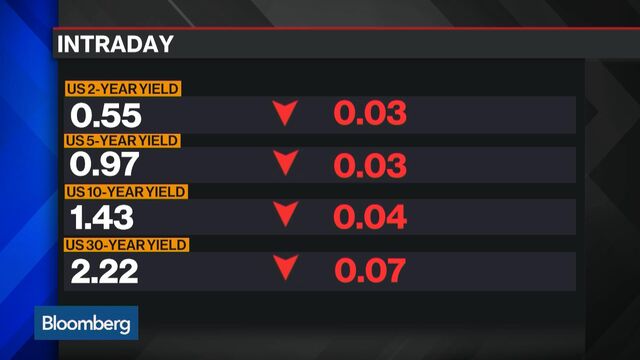 A week after the U.K.'s vote to leave the European Union sent global markets reeling, corporate bond investors are optimistic those early concerns were exaggerated.
"For the amount of uncertainty, I would have thought the market would be weaker," said Roger Webb, a London-based investment director at Aberdeen Asset Management Plc, which manages about 290 billion pounds ($386 billion). "I'm surprised there hasn't been a bit more panic. It feels like the market is pricing a more sanguine outcome, rather than the worst-case scenario."
Central bankers and politicians sought to soothe markets after U.K. voters' decision to pull out of the 28-nation bloc sent the pound and euro tumbling, wiped billions off the value of stocks and pushed government bond yields to new lows. Since then measures of credit risk in Europe have retraced most of their increases and borrowing costs in euros have fallen to a record-low as bond sales resumed after six straight days of no issuance.
Since rising 23 basis points in the aftermath of the vote, the Markit iTraxx Europe Index, which tracks credit-default swaps on investment-grade companies, has fallen 16 basis points over four days, according to data compiled by Bloomberg. A decrease signals improvement in perceptions of credit quality.
A gauge of swaps tied to mostly junk-rated corporate debt dropped 33 basis points this week after the selloff on June 24, the biggest weekly decline since March 11, the data show. Even at its peak on Monday, the Markit iTraxx Crossover Index didn't break through the heights reached in February when concerns of slower growth in China and a rout in commodity prices shook markets, the data show.
Central Banks
"It feels like nothing has happened," Ioannis Angelakis, Bank of America Corp.'s credit derivatives strategist in London, wrote in a note to clients on Friday. "At these levels credit spreads do not reflect risks post the U.K. EU referendum. We see significant risks to the downside at these levels."
Pledges from central banks have boosted investors' spirits. The Bank of England said it may cut interest rates within months, the odds of the Federal Reserve raising borrowing costs this year have dropped and the European Central Bank is considering loosening the rules of its bond purchases to ensure enough debt is available to buy. Markets are awaiting a successor to Prime Minister David Cameron and the bookmakers' favorite is Theresa May, the Home Secretary who backed the 'Remain' side in the referendum.
Doubts have emerged if Brexit will even happen. Nordea Bank AB said Tuesday it saw a 30 percent chance that the U.K. won't invoke the mechanism for formal exit.
"It's unlikely the version of Brexit sold by the Leave campaign will be the one we end up with," said Alex Eventon, a Paris-based fund manager at Oddo Meriten Asset Management which oversees 46 billion euros ($51 billion). "There's some skepticism on the side of investors. They aren't ready to bet their house on carnage in European credit."
The average yield investors demand to hold investment-grade bonds in euros dropped to a record low at 0.928 percent on Thursday, according to Bank of America Merrill Lynch index data. Junk bond yields have fallen to a three-week low at 4.604 percent, the data show.
"I expected more of a selloff in credit than we've seen," said Andreas Michalitsianos, a global fixed-income portfolio manager at JPMorgan Asset Management, which oversees $1.5 trillion. "A lot of investors stored up cash and have put that to work after the vote to leave. That has stemmed the tide a bit."
Before it's here, it's on the Bloomberg Terminal.
LEARN MORE