U.K. Bankers Come Through Brexit Fallout to Political Vacuum
by and
Barclays calls off emergency committee as markets calm down

Bank CEOs said to meet with Bank of England on Brexit impact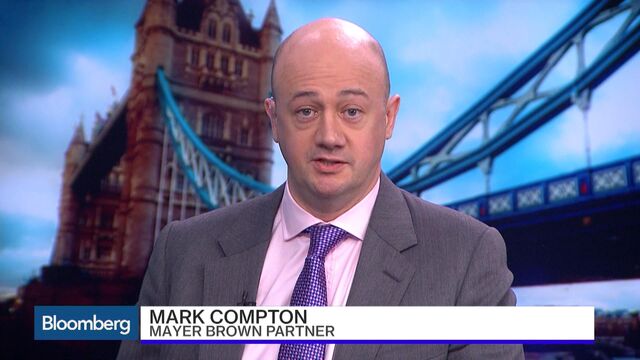 The U.K.'s largest banks are switching from crisis response to crisis management as they prepare to face repeated aftershocks from last week's Brexit vote.
On Tuesday, Barclays Plc disbanded an emergency committee of senior managers that was monitoring the impact from Brexit, Steve Cooper, the British lender's chief executive for personal banking, said at a conference in London on Wednesday. Executives from Royal Bank of Scotland Group Plc, HSBC Holdings Plc and Banco Santander SA also indicated they are standing down from their crisis stance.

"This is a time for leadership and for cool heads to prevail," Barclays Chairman John McFarlane said on Thursday. "We have experienced an exogenous shock, and have acquitted ourselves admirably."
While the markets have calmed for the time being, the banks now have to find a way to operate within a political vacuum. Multiple Conservative Party politicians declared they were joining the race to become prime minister on Thursday, and the U.K. will likely have a new leader by September.
Crisis Leadership
"We had a crisis leadership structure in place -- we stood that down yesterday, so no issues there," Barclays's Cooper said on a panel at the British Bankers Association's retail banking conference in London. "Nothing is going to happen in the short term. There's obviously some political uncertainty, but I'm sure that'll work it's way through."
The Bank of England held a meeting with the CEOs of the nation's largest lenders on Wednesday to discuss the impact of the vote, according to two people briefed on the matter. RBS Chairman Howard Davies said Thursday on Bloomberg Television that the central bank was "well prepared" and helped markets function effectively.
Barclays held extra cash in its branches to protect against a spike in deposit withdrawals, increased the number of staff operating customer helplines, and held hourly calls between the senior executives from all the bank's divisions to monitor the fallout from the vote, Cooper said after the panel. While the bank will watch for any unexpected incidents, having a dedicated emergency team is no longer required, Cooper said.
Contingency Plans
Britain's second-largest bank wasn't alone in preparing for the worst. Lloyds Banking Group Plc Chief Executive Officer Antonio Horta-Osorio and RBS CEO Ross McEwan told employees their contingency plans worked, but the road ahead remains uncertain, according to separate memos obtained by Bloomberg News. Santander also held regular calls between top executives, put extra cash into its branches and increased staffing numbers, deputy U.K. CEO Javier San Felix said on the sidelines of the conference.
While banks faced turmoil in the markets, they didn't experience a run on deposits, which are key to their financial stability, Cooper and San Felix said. Bank of England Governor Mark Carney pledged last week to provide as much as 250 billion pounds ($337 billion) of funding to the financial system if needed. Carney is scheduled to deliver a further speech on Thursday. 
Halting Declines
U.K. bank stocks were mixed Thursday after a two-day rally. They had plunged by an average of 29 percent in the two trading days after the vote. The broader FTSE 100 Index has fully erased its decline since the result, though the pound is still down about 10 percent versus the dollar since the vote.
With almost a week gone by since the vote, banks have turned their attention to what a Brexit might look like for their businesses. The British Bankers Association organized a meeting of senior executives on Tuesday led by Shriti Vadera, chairman of Santander's U.K. arm, to discuss steps to maintain financial stability and protect jobs. 
RBS's Davies said British banks are having "lots of discussions" about what they want the government to seek on their behalf, and want to retain access to skilled staff and the passporting arrangement that lets banks do business across the EU. McFarlane concurred, telling the annual conference of TheCityUK on Thursday that it was likely that the U.K. would seek access to the single market, and even more likely that interest rates will stay lower for longer to support the economy.
"We don't know if exit is inevitable, nor the shape of an exit if it occurs," McFarlane said. He said there would likely be some restrictions on the free movement of people, though Britain should seek to preserve the ability to employ "talented workers from Europe and the rest of the world," with priority for financial and professional services.
Tory Race
With the looming departure of pro-EU Prime Minister David Cameron, it's unclear which political leaders banks will need to approach. Theresa May, popular with the Conservative membership, declared her candidacy Thursday, saying "Brexit means Brexit," immigration should be controlled and there should be no attempt to remain inside the EU. Michael Gove joined the race and accused his former ally and former London Mayor Boris Johnson of a lack of leadership, a week after the two men were the Conservative faces of the Brexit campaign. Johnson today said he wouldn't run for the leadership.
"Markets tend to overreact, and there is enough evidence that this is true in politics," McFarlane said. "Unlike the previous crisis, in this instance, the City does not bear the accountability."
Before it's here, it's on the Bloomberg Terminal.
LEARN MORE