business
Treasury's Weiss Makes Mark Championing Puerto Rico Solution
By
Counselor to Secretary Lew seen as key in getting law through

Ex-Lazard banker weathers storms since Obama nomination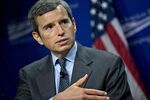 Antonio Weiss has survived protesters at his New York apartment, an advertising campaign targeting him and an anti-Wall Street tirade by a top Democrat to become a key architect of the Obama administration's strategy to rescue Puerto Rico from its deepening fiscal crisis.
After months of bipartisan negotiations that often created odd political bedfellows, the Senate passed a bill late Wednesday that will restructure Puerto Rico's $70 billion debt and create an oversight board to help with finances. While the island's governor on Thursday declared a moratorium on debt payments, promising its biggest default yet, President Barack Obama's signing of the legislation raises the prospect of an orderly resolution that's helped Puerto Rico bond prices rebound from lows.
Weiss, 49, a former Lazard Ltd. investment banker who spent almost two decades on Wall Street, became a champion for the island's cause -- a debt crisis with a human toll. Even as Puerto Rico activists gathered outside his building in April pointing out the difference between how he lives and how the commonwealth's residents live, he voiced their concerns at the negotiating table in Washington, helping to probably avert what could have turned into a decades-long court battle with creditors, a la Argentina.
Until Weiss's arrival at the start of 2015, the Treasury's domestic finance office was mainly watching the emerging crisis in Puerto Rico through a dashboard of municipal bonds, according to a former Treasury official who asked not to be identified. Weiss established a dedicated group that grew to about a dozen at the height of its work to provide technical assistance to Puerto Rico and find viable solutions to its debt crisis, the person said.
Weiss quickly pinpointed that "there was a meaningful risk that Puerto Rico would run out of cash and financing options before the Obama administration left office," said Brad Setser, who until January was part of the Treasury's internal task force focusing on the territory. "Antonio brought a strategic vision about what the parameters of any true solution should look like."
For more on Puerto Rico's slide, click here.
During his 18 months at the Treasury, Weiss has spent about 13 hours testifying on Capitol Hill about Puerto Rico and held dozens of meetings with members of Congress and island officials. In the end, he won public praise from Republicans, Democrats and Puerto Ricans for explaining how the crisis could evolve, as well as a willingness to engage with parties with competing interests and even talk directly with frustrated Puerto Ricans in New York, according to congressional aides for both parties.
House Natural Resources Committee Chairman Rob Bishop of Utah and his staff "have been very complimentary of Secretary Lew, Antonio Weiss and all Treasury staff engaged on the issue," said Parish Braden, spokesman for the panel, which oversaw the legislation.
During the meeting in New York earlier this month, Weiss led a small team of Treasury officials to address the concerns of about 30 people who didn't understand why they should support a law that would cut the wages of hard-working Americans in Puerto Rico, according to two congressional aides who asked not to be identified. The most contentious part of the bill for many Puerto Ricans -- limitations on minimum-wage and overtime rules -- was something that the Treasury wasn't a fan of to begin with.
The two-hour meeting, hosted by the Hispanic Federation, was crucial in rallying support from some Democrats, according to one Democratic aide.
Working on Puerto Rico has "given me greater optimism about government," Weiss said in an interview last week. "You see a problem, you have an idea for a solution, you put a bunch of people together who have incredible amounts of energy and expertise, and you help 3.5 million people in the end. That's very motivating."
Newspaper Ads
The son of a concert pianist father, Weiss's transition from Wall Street to the policy-making world started with a storm. Democratic Senator Elizabeth Warren of Massachusetts fought his nomination as Treasury undersecretary for domestic finance, leading him to withdraw and take an advisory role that wasn't subject to Senate confirmation. By the time he started in January 2015, he had left a job where he had earned about $15 million over the past two years for a government position that pays roughly $170,000.
The controversy didn't stop there. After he took the helm of the Puerto Rico issue at the Treasury, protesters showed up at his New York apartment building, saying his Wall Street ties represented a conflict of interest in his role dealing with a territory heavily indebted to hedge funds. And then there were the newspaper ads that said he was responsible for a plan to bail out Puerto Rico using taxpayer money; the Treasury has said it's not a bailout.
Since arriving in Washington, Weiss has had a hand in other issues including examining the structure of the U.S. debt market and housing-finance reform.
Those who have worked for him at the Treasury describe him as a behind-the-scenes person, a good listener and a consensus generator. Congressional aides from both sides of the aisle and in Puerto Rico say Weiss's strategy to consistently elevate the crisis in the minds of lawmakers and Americans was a winning one.
Long Saga
Besides the threat of Puerto Rico's spiraling further out of control, the challenge for Weiss and the administration was to get an increasingly partisan Congress on board. The bill's final passage capped a long saga of negotiations, with leaders from both parties and the White House lobbying furiously to avert what Treasury officials repeatedly warned would be chaos after the island's likely July 1 default.
"Antonio has been an essential partner in making clear the depth of our humanitarian crisis," Puerto Rico Governor Alejandro Garcia Padilla said in an e-mailed reply to questions. He said Weiss was a "priceless resource" who "tirelessly advocated" for the commonwealth.
Since January 2014, Weiss has traveled to the territory five times to witness the crumbling infrastructure and the shutdown of some public services. In May he visited San Juan with Lew, stopping by a kindergarten class that couldn't afford a power strip.
About 6'3" (190 cm) tall, quiet and media-shy, Weiss spent that day one step behind Lew and Garcia Padilla as they transmitted the message through about a dozen invited reporters of the human toll of Puerto Rico's fiscal crisis.
While Warren opposed Weiss's nomination because of his finance background, his knowledge of contemporary markets shows how people shouldn't be disqualified just because they've worked on Wall Street, according to Jared Bernstein, a senior fellow at the Center on Budget and Policy Priorities and former chief economic adviser to Vice President Joe Biden.
"He's made contributions at Treasury in tax policy, retirement savings and helping Puerto Rico with the type of financial market oversight" expertise that often comes from Wall Street, Bernstein said of Weiss.
(
Updates with Weiss' additional duties in 13th paragraph.
)
Before it's here, it's on the Bloomberg Terminal.
LEARN MORE