business
Vietnam Says Taiwan's Formosa Caused Millions of Fish Deaths
By , , and
Formosa to pay $500 million in damages, issues public apology

Mass fish deaths triggered rare public protests across country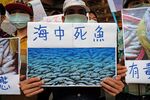 Taiwan's Formosa Plastics Corp. has taken full responsibility for a toxic discharge from its Vietnamese steel plant that led to mass fish deaths in April across four coastal provinces, sparking unprecedented public protests.
After a two-month investigation into the cause of the environmental disaster, Vietnam chairman of Government Office Mai Tien Dung told a packed media conference on Thursday that the company had admitted its role in the disaster on June 28.

Asking forgiveness from the Vietnamese people in a nationally-televised video recording, Chen Yuan-Cheng, chairman of Formosa Ha Tinh Steel, a unit of Formosa Plastics Corp., said the company accepted full responsibility for the fish deaths. Formosa has agreed to pay $500 million in compensation and pledged not to repeat such actions.
"Incidents at Formosa caused fish deaths in the four provinces," Chen said in the video. "We accept full responsibility for the incident. We apologize for causing the incident, severely impacting people's lives and the sea environment."
Two Months
Government officials took pains to explain why the probe into the mass fish deaths took two months to complete. Investigators had to check hundreds of facilities to find the source of the toxic discharge, said the Minister of Natural Resources and Environment Tran Hong Ha.
The crisis set off rare protests across Vietnam, testing the government as it struggled to balance its desire for increased investment from abroad against the need to show the public that it would not be pushed around by foreign companies.
The need to allow the formation of independent trade unions and enact stringent environmental protections as part of Vietnam's entry to the Trans-Pacific Partnership trade pact added to pressure on the government, said Fred Burke, managing partner at law firm Baker & McKenzie (Vietnam) Ltd.
"They want to send a message to foreign investors they won't be too hard on them," Burke said. "But they have to enforce their laws and let investors who want to comply with the laws know that they will be enforced and they are operating on a level playing field."
People's Demands

Critics of the government said the investigation took too long. "The probe results, which should have been done within a week from the incident, show the Vietnamese government's goodwill in satisfying people's demands," said Thi Nguyen, a Ho Chi Minh City-based environmental consultant. "Public anger and demonstrations could have been avoided if the government was transparent from the beginning."
Minister of Information and Communications Truong Minh Tuan told reporters at the briefing that "hostile forces" had incited the wave of public protests.
Anger over the dead fish first spread on social media after a local Formosa official said the Vietnamese people should choose between their seafood industry or the steel plant. The company later apologized for the comment, according to local media.
"That resulted in 1,000 t-shirts -- "I choose fish" -- on the streets of Saigon," Burke said. "They had to set up barricades to prevent spontaneous demonstrations from getting out of control."
Volatile incident
In an April 26 statement, Formosa Ha Tinh Steel said it was "deeply surprised and sorry." The company said its total investment in the Vietnam plant was $10.5 billion, including $45 million for a waste water treatment system. That system had all the appropriate regulatory permits and met national standards, the company said.
The fish deaths had become such a volatile issue that the Ministry of Public Security urged police this week to curb any activities that could incite demonstrations, news website Zing reported, citing Minister To Lam.
After thousands took to the streets in Hanoi and Ho Chi Minh City on May 1, Prime Minister Nguyen Xuan Phuc the next day ordered an investigation and punishment of those who incited people to protest and caused disorder. Police broke up demonstrations, or prevented them from happening, on ensuing weekends.
The death of millions of fish along 200 kilometers of Vietnam's central coast from April 6 to April 18 has threatened the livelihoods of fishermen, restaurant owners and makers of traditional Vietnamese fish sauce.
Foreign Investment
Damage to the central region was estimated at about 580 billion dong ($26 million), Phap Luat Thanh Pho Ho Chi Minh reported May 12 on its website, citing the Fatherland Front, an organ of the Vietnamese Communist Party. About 30 percent of tourists canceled visits to Quang Binh province, which houses Son Doong, the world's largest cave, during a four-day holiday starting April 30, the local government said.
"Incidents that occurred during the test-run process of Formosa Ha Tinh led to its waste water having toxins exceeding permitted levels," the government said in a statement posted on its website. "This is a lesson for companies that during the investment process they must strictly comply with laws, especially regulations on environment protection."
Formosa has been the focus of public anger in Vietnam before. In May 2014, it and other Taiwanese businesses were attacked by protesters after China placed an oil rig in disputed waters off Vietnam's coast. Formosa said the riots, where one Chinese worker died of heat stroke, caused $3 million in losses, and it received 30 billion dong ($1.34 million) in compensation.
The dead fish incident "shows the complexity of dealing with FDI in Vietnam and elsewhere," said Trinh Nguyen, a Hong Kong-based senior economist for emerging Asia at Natixis SA. "It shows that there is a lot of work the government needs to do moving forward to ensure that development is sustainable."
— With assistance by Yu-Huay Sun, and Chinmei Sung
Before it's here, it's on the Bloomberg Terminal.
LEARN MORE