business
Takata Shareholders Approve CEO's Reappointment at Lowest Rate
By
Approval at 84% rate trailed Takata's five other directors

Shareholders said 50-year-old CEO signaled he'll step down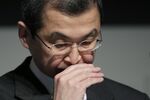 Shigehisa Takada, president and chief executive officer of embattled air-bag maker Takata Corp., was reappointed with the lowest approval rate among six board directors following an annual meeting in which he signaled his willingness to eventually step down.
Takada, who together with his family owns about 60 percent of the company's stock, was re-elected with 84.3 percent of the shareholder vote. The rate of support trailed Takata's five other directors who were reappointed, including Chief Financial Officer Yoichiro Nomura and Executive Officer Hiroshi Shimizu.
Days after the 15th death involving ruptured Takata air bag inflators, Takada signaled his intention to step down once the company finds a way to overcome its crisis, according to shareholders who attended the company's annual meeting Tuesday in Tokyo. Takada told shareholders he will take responsibility in containing recalls and finding a path to restructure the business, a spokeswoman said.
Takata formed a steering committee in February to develop a restructuring plan and last month hired Lazard Ltd. to pursue buyers. Honda Motor Co., Takata's largest customer, said Monday it was investigating the death of a 2005 City subcompact driver in Malaysia a day earlier, the third fatality in the country in three months that the automaker has said may have been caused by the faulty inflators.
Before it's here, it's on the Bloomberg Terminal.
LEARN MORE