Rivals in U.K. Tory Leadership Battle Have Acrimonious Past
By and
When May and Gove clashed two years ago, Gove came off worse

Both seek to replace Cameron pledging to honor Brexit vote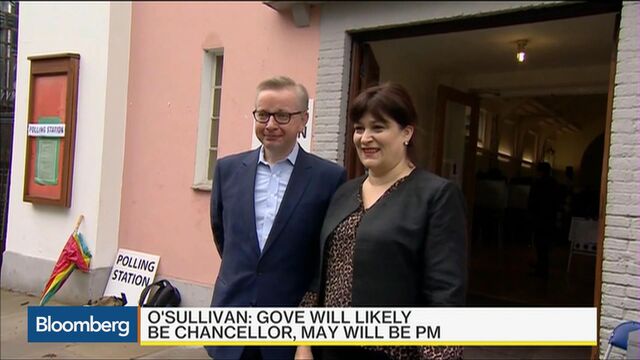 The last time Theresa May took on Michael Gove, she emerged as the winner.
Two years after a clash over extremism in schools that contributed to Gove being fired as education secretary, the two are locking swords again as the vicar's daughter takes on the adopted son of a fish merchant for the office of prime minister.

Gove and May are the favorites to succeed David Cameron as Conservative leader and premier after his defeat in the European Union referendum forced his resignation. While they were on opposite sides of the Brexit campaign, both will now be running on a similar platform, committed to respecting Britons' wish to leave the EU. May has ruled out an early general election.
"I don't think there's any love lost between them," Andrew Russell, professor of politics at the University of Manchester, said in a phone interview. "Michael Gove now looks like he might be the Brexit candidate that the defeated Remainers could work with, and I'd always thought that Theresa May would be the Remainer that Exiters could get on with. So, they both look like strong candidates."
The most powerful woman in government and the longest-serving home secretary in more than a century, May's steely exterior is often seen as lacking the warmth and popular appeal of politicians such as Boris Johnson. On Thursday, as she made her bid to be Tory leader, she sought instead to turn these into assets, stressing her reliability and focus on getting the job done. 
Not Showy
"I know I'm not a showy politician," she told a press conference in London to whoops of support from some Conservative colleagues. "I don't tour the television studios. I don't gossip about people over lunch. I don't go drinking in Parliament's bars. I don't often wear my heart on my sleeve, I just get on with the job in front of me."
While she aligned herself with Cameron in the battle to keep Britain in the EU, May, a known Euro-skeptic, was careful to appear a reluctant "Remainer," largely absent from the campaign's televised and public campaign events. By promising she won't consider a second referendum, she hopes to build bridges with those members of her party who actively backed "Leave."
"Brexit means Brexit," she told reporters Thursday. "There must be no attempts to remain inside the EU. No attempts to rejoin it through the back door and no second referendum."
Vogue Subscription
May, 59, has also not been shy of playing on her femininity, openly discussing her love of shoes and telling BBC Radio 4's "Desert Island Discs" show her one item if marooned on an island would be a subscription to Vogue magazine.
Gove, 48, emerges from the EU referendum having first turned his back on his old friend Cameron by backing Brexit and then abandoning his support for Johnson, his ally in the "Leave" campaign. The former Times of London journalist initially promised to chair Johnson's leadership push and repeatedly ruled himself out of the contest.
Gove delivered the killer blow to Johnson's chances on Thursday, announcing his intention to run hours before the former London mayor was due to declare his candidacy at a press conference and forcing him to announce his withdrawal instead.
'Stubborn Best'
The ground was laid on Wednesday afternoon after an e-mail from Gove's wife, newspaper columnist Sarah Vine, to her husband was leaked to the press. In it, she suggested Johnson wasn't trusted by the party and urged her husband not to pledge his support before seeking assurances about his role in any cabinet led by Johnson. "Do not concede any ground," she wrote. "Be your stubborn best."

Unpopular with ministers and the public when he was education secretary for seeking to push through radical reforms to the school curriculum, Gove saw his popularity surge during the "Leave" campaign as voters and party members saw him as the reasoned, sensible foil to Johnson's erratic charisma. His early backing for Brexit will also have won him the loyalty of more virulent "Leave" supporters eager for a leader to champion their cause.
'Heart and Soul'
"I felt we needed someone to lead this country who believed heart and soul in leaving the European Union," Gove said in a BBC Television interview. "I came in the last few days reluctantly and firmly to the conclusion that, while Boris has great attributes, he was not capable of uniting that team and leading the party and the country in the way that I would have hoped."
Gove's relatively modest background is also likely to play well with Tory voters who feel the Conservative Party has been dominated by a privately educated elite. His father ran a fish-processing business in Aberdeen, which Gove claimed during the referendum campaign was destroyed by the EU's fisheries policy, and his mother worked at the Aberdeen School for the Deaf. He attended a state school before winning a scholarship to the independent Robert Gordon's College in Aberdeen and then going onto Oxford University.
Gove entered Parliament in the 2005 general election -- won by Labour -- and was quickly promoted under Cameron. He joined the cabinet in 2010 when Cameron took office at the head of a coalition government.
'Nasty Party'
As education secretary, he traded bitter accusations with May over their respective departments' handling of alleged plots by hard-line Islamists to take over schools in Birmingham, central England. They were both accused of briefing the media against each other. Gove was demoted to the position of chief parliamentary-party manager by Cameron in a reshuffle shortly after, while May kept her job. He was later appointed justice secretary.
May's rise goes back almost two decades. First elected to Parliament in 1997, when Tony Blair trounced John Major's Conservatives, she became the first female chair of the party in 2002 and immediately attracted criticism when she told conference delegates that the Tories were viewed as the "nasty party" and needed to soften their image.
She can also argue that her experience extends beyond politics, having worked in finance for 20 years before going into Parliament, firstly at the Bank of England and then at the Association for Payment Clearing Services.
May's career has not been without controversy. She faced calls for her resignation over her handling of a processing backlog at the Passport Office in the summer of 2014. In 2011, she was embroiled in a controversy over frontier surveillance, admitting she authorized reduced passport checks for EU citizens but blaming U.K. Border Agency officials for relaxing controls for non EU travelers.
Margaret Thatcher
More problematically, as head of the department that oversees immigration, she may have trouble distancing herself from criticism for the government's failure to meet Cameron's pledge to cut net inflows to below 100,000.
After nominations closed, bookmaker Ladbrokes Plc shortened the odds on May as the favorite to win and installed Gove as the "clear second favorite." The influential Daily Mail newspaper endorsed May today, saying she is the best candidate to unite a "party in flames."
The three other candidates are Andrea Leadsom, Stephen Crabb and Liam Fox. Tory lawmakers whittle down the field to two in a series of votes before the wider party makes the final choice.
"It's a very peculiar electorate but some of them may see Theresa May as a second Margaret Thatcher, another strong woman to lead the party," said Wyn Grant, a professor of politics at Warwick University. "Michael Gove is very smart but whether they would think he's trustworthy given what he's done, and how he's done it, is open to question."