Emerging Markets Post Best Month Since March on Stimulus Bets
By
Three-day rally in stocks almost erases Brexit selloff

Currencies advance; yield premium to Treasuries narrows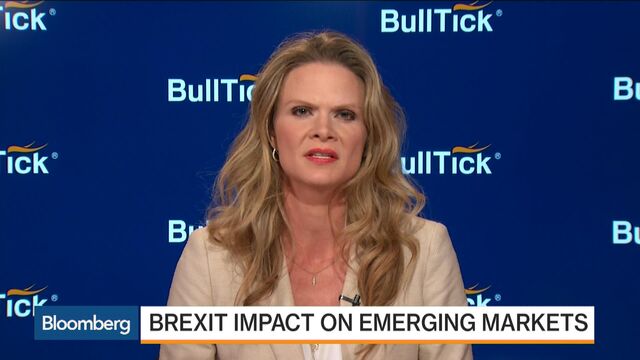 Emerging markets rose for a third day, pushing stocks and currencies to their biggest monthly gains since March, as central banks signaled readiness to quell turmoil after the U.K.'s vote to leave the European Union.
Equities took back almost all the losses posted in the wake of Britain's referendum as central bankers from Asia to Europe said they have tools to respond to the fallout. Federal Reserve Bank of St. Louis President James Bullard said at an event in London that the market shock from the vote is "manageable." Traders have pushed back bets for higher U.S. interest rates, with Fed futures signaling the next increase may not come before 2018.

"As long as the U.K. remains in a state of suspension and the Fed holds off rate hikes, emerging markets will continue to rally," said Christopher Shiells, a senior emerging-market analyst at Informa Global Markets in London, who recommends buying assets in Brazil and Mexico. "There is limited downside for markets not directly exposed to the U.K."
Technology stocks led gains on Thursday, with Taiwan Semiconductor Manufacturing Co., Samsung Electronics Co. and Tencent Holdings Ltd. each advancing more than 2 percent. South Korea's won advanced the most among currencies. The rand strengthened for a third day as South Africa posted a record trade surplus. Turkish assets advanced, with 10-year bond yields dropping to an eight-week low after Russia said it will lift a ban on visitors that has crippled the Mediterranean nation's tourism industry.
Stocks
China's bid for greater influence in global financial markets will benefit from the U.K.'s decision to leave the European Union, Mark Mobius, executive chairman of Templeton Emerging Markets Group, said in an interview in London on Wednesday. Asia will be seen as relatively more desirable because it's largely isolated from Europe's turmoil, he said.
The MSCI Emerging Markets Index advanced 1.5 percent to 834.10, less than two points below the closing level on June 23, before the U.K. announced the vote result. Developing-nation stocks climbed 3.3 percent in June, trimming this quarter's loss to 0.3 percent, its first decline since the three-month period ended September.
The Hang Seng China Enterprises Index of mainland companies listed in Hong Kong climbed 1.7 percent, leading gains in Asia on Thursday. Hong Kong's markets will be closed on Friday for a public holiday. Benchmarks in South Africa, Mexico and South Korea advanced more than 0.6 percent. The Ibovespa rose 1 percent in Sao Paulo, led by a 2.3 percent advance in Itau Unibanco Holding SA.
Currencies
The S&P BSE Sensex Index extended this quarter's advance to 6.5 percent, the most since Indian Prime Minister Narendra Modi assumed office two years ago, as the government stepped up measures to bolster growth.
The MSCI's currency index rose 0.4 percent on Thursday, bringing this month's advance to 2.4 percent and the quarterly advance to 0.3 percent.
The won climbed 0.7 percent after South Korea's industrial production beat all estimates in a Bloomberg survey. South Africa's rand gained 0.5 percent. The trade surplus widened to 18.7 billion rand ($1.26 billion) from a revised deficit of 130 million rand in April.
Bonds
Russia's ruble fell 0.2 percent, trimming a quarterly gain to 4.8 percent, the biggest in developing markets after the Brazilian real's 12 percent jump. Oil's rebound from a 12-year low in January has pushed up revenue for the state budget in the world's biggest energy exporter.
The yuan fell 0.2 percent in onshore trading, leaving it down 3.1 percent for the quarter. It dropped as much as 0.26 percent earlier after Reuters reported that China's central bank is prepared to allow a drop to 6.8 this year. The People's Bank of China said in a statement on its website that some media reports on the yuan exchange rate were misleading and encouraged speculative shorting of the currency.
Bonds capped their best monthly returns since March, with the Bloomberg Emerging Market Local Sovereign Index gaining 1.5 percent as of Wednesday. Brazil and South Africa were standouts, returning more than 10 percent in dollar terms, according to data compiled by Bloomberg.
The premium investors demand to own developing-nation sovereign debt rather than U.S. Treasuries fell one basis point to 388 on Thursday, JPMorgan Chase & Co. indexes show. The spread has narrowed 23 basis points in three days.
Turkish bonds rose, with the 10-year note yield falling eight basis points to 9.22 percent. Russian President Vladimir Putin said on Wednesday the country will lift a ban on tourism to Turkey after his first talks with Turkish counterpart Recep Tayyip Erdogan since the downing of a Russian warplane plunged relations into crisis. Stocks and the lira also gained.