Pound at Risk of Fall in Reserve-Currency Ranks After Brexit
By , , and
S&P sees vote hurting sterling's status in official holdings

Indonesia reduced sterling in reserves even before U.K. vote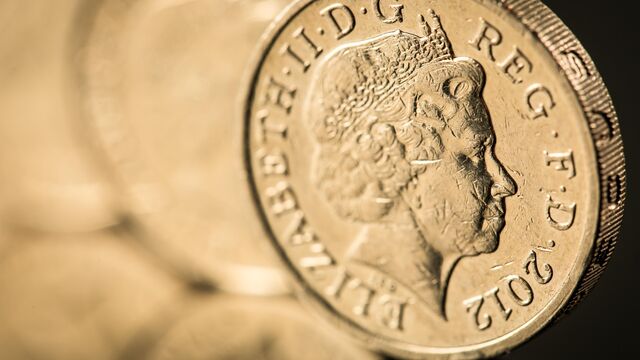 The pound is at risk of fading from the top ranks of central-bank asset holdings following Britain's decision to leave the European Union.
The world's foremost reserve currency a century ago, sterling has been overtaken by the dollar and the euro, mirroring the U.K.'s waning influence in the global economy. Now its 5 percent share of foreign-exchange reserves is in danger of shrinking further because of Brexit, compounded by forces including China's push to bolster the international role of the yuan.
Diminishing use of sterling-denominated assets would vindicate the warnings of those who called for Britain to stay in the EU and potentially put upward pressure on U.K. borrowing costs. S&P Global Ratings, which stripped the U.K. this week of its last remaining top rating, sees Brexit affecting the pound's role as a reserve currency. Sterling has dropped more than 10 percent since the June 23 vote sent the nation into a political crisis.

"If Brexit results in dilution of the U.K.'s financial prowess, a prolonged period of political uncertainty and greater budget uncertainty, the pound will lose its luster as a reserve currency," said Jane Foley, a senior currency strategist at Rabobank International in London.
The pound accounted for about $344 billion of known foreign-exchange reserves in the first quarter, behind the U.S. dollar's $4.57 trillion and the euro's $1.46 trillion, according to the International Monetary Fund. It's just ahead of the yen at $293 billion. The Washington-based lender will start identifying the proportion of yuan reserves with fourth-quarter 2016 figures.
Yuan's Fans
The IMF in November agreed to include the yuan in its basket of reserve currencies, giving a long-sought international stamp of approval for the world's biggest economy. Among the currency's fans is Singapore, which said it plans to include yuan-denominated assets in its foreign reserves starting this month.
"A more multi-polar world with China in the picture is a challenge for smaller reserve currencies like the pound, yen and the Swiss franc, but the share of reserves the yuan occupies should rise very gradually," said Stephen Gallo, London-based head of European currency strategy at BMO Capital Markets.
Even before the Brexit vote sent the pound tumbling to the lowest since the 1980s, Indonesia's central bank had already been cutting its holdings of sterling among its $104 billion in foreign-exchange assets.
"Bank Indonesia has gradually decreased the pound sterling and euro components in its foreign reserves," Deputy Governor Hendar said in an interview. "Every start of the year, we have strategic allocations for our foreign reserves. At that time, we look at what's good to hold and what's not."
ING Groep NV and Morgan Stanley are among those who say there may be some reduction of sterling assets in central banks' reserves after Brexit, though it could take time and the magnitude may be small.
Allocation Decisions
"Some central banks could conclude that the risk around the U.K. is now so large that they would now prefer to have a lower allocation to the pound, but that decision has to be actively made," said Brad Setser, a former U.S. Treasury official who's now a senior fellow at the Council on Foreign Relations.
However, if countries decide they want to maintain their allocations of reserves, they may actually need to buy more sterling assets given the currency's drop, Setser said.
The Canadian and Australian dollars stand to benefit from the shift away from the pound, judging from trends in place since the global financial crisis began in 2007, Frank Gill, S&P senior director for European sovereign ratings in London, said in an e-mailed response to questions.
"It'll definitely be a two-to-three-year process," said Viraj Patel, currency strategist at ING in London. Central banks will "probably stick to their normal weightings and make some longer-term decisions once the U.K.'s status has been clarified."
Ultimately, the decision will be up to central banks, and Thailand's, for one, isn't ready to give up on the pound as part of its $180 billion in foreign-exchange holdings.
"We are a long-term investor," Assistant Governor Chantavarn Sucharitakul said in an interview. "Sterling has long held the status of a reserve currency for the world. It does not look like there will be an imminent change."
Before it's here, it's on the Bloomberg Terminal.
LEARN MORE