Pentagon Budget Caps Will Return to Confront Clinton or Trump
By
Defense budget faces about $106 billion in cuts through 2021

Comptroller McCord says rate of F-35 purchases may be slowed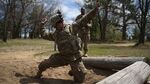 The return of budget caps and the potential for automatic across-the-board spending cuts through 2021 pose the No. 1 defense fiscal challenge for the the next president and defense secretary, according to Pentagon Comptroller Mike McCord.
"There is no deal on the books, so you are starting with a clean sheet of paper" that "overshadows their whole first term," McCord said in an interview.
Cuts in defense and domestic spending that would be imposed through a process called sequestration have been eased by stopgap deals in Congress, including a two-year relaxation of budget caps under Public Law 114-74 for the current year and for fiscal 2017, which begins Oct. 1.
After that, McCord said, the Pentagon faces about $106.6 billion in potential cuts from its current budget projections -- starting with $33.6 billion in fiscal 2018, the first budget to be submitted by the winner of the presidential contest between presumptive nominees Hillary Clinton for Democrats and Donald Trump for Republicans.
Those cuts would be followed by $29 billion in 2019, $21.3 billion in 2020 and $22.8 billion in 2021, he said.
New Team
"Before you finalize a 2018 budget" you'd need to know whether the new president supports living with the Budget Control Act of 2011, Public Law 112-25, McCord said. "We've been very consistent" in submitting a budget that reflects what the Pentagon thinks it needs over the caps, McCord said. "What does the new team think?"
McCord said spending decisions for the next president will include whether to slow the pace of purchases of Lockheed Martin Corp.'s F-35, the costliest U.S. weapons system.
The return of budget caps would affect not only military readiness but government spending in communities across the U.S. on bases and on weapons contracts. Neither Clinton nor Trump has discussed the sequestration issue in detail in their campaigns.
Trump said in an April 27 foreign policy speech that his administration would "lead a free world that is properly armed and funded, and funded beautifully."
Stopgap, War Spending
Whoever wins, the return of the caps will complicate the incoming administration's attempts to craft a new budget for submission to Congress by April, according to McCord. The new president also may have to deal with a stopgap funding measure for fiscal 2017, uncertainty over how much should be requested for Overseas Contingency Operations -- the war-fighting account exempt from budget caps -- and whether some of those dollars can be used to offset basic defense spending.
The annual defense spending and policy bills pending before Congress all face threatened vetoes by President Barack Obama if they reach his desk on issues including how to spend the war-fighting funds.
A House-backed plan to retain a force of 480,000 Army troops instead of a reduction to 460,000 next year would cost about $19 billion through 2021 and add an additional spending burden for the new administration, McCord said.
"We certainly owe the next administration an honest appraisal" of spending categories where the proposed base budget comes up short and the implications for initiatives such as added military spending in Europe and the mission in Iraq.
A challenge for the next president that's less pressing immediately is how to deal with a so-called bow wave of modernization spending projected after 2021 and the first term of the new administration, McCord said. Pentagon officials say the military will need at least $10 billion to $18 billion more annually by the mid-2020s to upgrade the nation's nuclear triad of submarines, land-based missiles and bombers and air-dropped weapons.
F-35 as Leverage
More immediately, if budget caps resume as scheduled, the new president will probably have to examine the rate of F-35 purchases, he said.
"If you have to make an adjustment up or down that's probably one thing you would look at because it's so big and you can vary it some," said McCord, who added that the F-35 is "in decent shape" despite "offhand" comments that it remains a troubled program.
McCord said his department is starting to work with the military services to craft documentation needed to hand off by early January a draft five-year plan for fiscal 2018 through 2022, complete with databases and issue papers.
The final product will give the new administration background for deciding whether they "want to change 10 things or 100 things," McCord said.
Before it's here, it's on the Bloomberg Terminal.
LEARN MORE