Micron Reports Wider Loss Than Estimated, Says Cutting Jobs
By
Chipmaker's sales, loss forecast falls short of estimates

CEO cites challenging market conditions, being conservative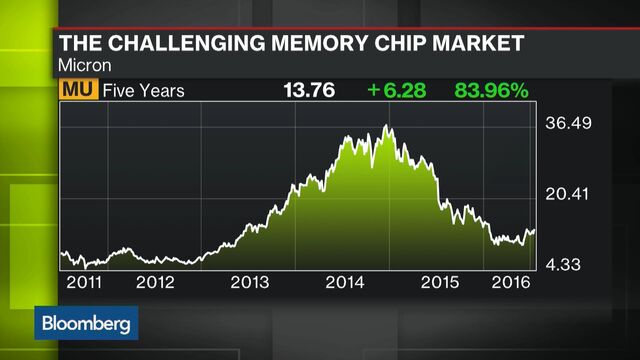 Micron Technology Inc., the biggest U.S. maker of memory chips, said it's cutting jobs and reported a wider loss than analysts had estimated amid ''challenging market conditions."
The stock dropped as much as 11 percent in extended trading.
Key Points
Net loss was 21 cents a share in the fiscal third quarter, compared with a profit of 42 cents a year earlier. Analysts' had estimated a loss of 13 cents a share.
The company said it would cut an undisclosed number of jobs, saving about $80 million per quarter in fiscal 2017.
Adjusted loss per share is forecast to be 16 cents to 24 cents in the fourth quarter. Analysts' estimated a profit of 2 cents.
Adjusted sales in the fourth quarter will be $2.9 billion to $3.2 billion, compared with estimates of $3.2 billion.
The Big Picture
Micron competes with larger South Korean rivals Samsung Electronics Co. and SK Hynix Inc. in the market for memory chips. The three try to balance production of the commodity chips with fluctuations in demand for computers, which is declining, and the smartphone market, also slowing. The ability to cut costs through improving production, which analysts say Micron has been slower to implement, can determine whether they are able to remain profitable in periods of weaker demand.
The Detail
Micron reported sales declined 25 percent to $2.9 billion in the quarter ended June 2. Analysts estimated $2.96 billion.
"Although we have made good progress in deploying our advanced DRAM and NAND technologies, we continue to face challenging market conditions," Micron Chief Executive Officer Mark Durcan said in a statement. "To address the current market environment and strengthen our competitive position, we are implementing a number of initiatives to reduce costs, drive greater efficiencies, and increase focus on our strategic priorities."
The company continues to take a conservative view of the market despite chip market price improvements, he said on a conference call.