Mexico Raises Key Rate More Than Expected After Brexit Vote
by and
Peso fell briefly to record after U.K. referendum last week

Policy makers veer from Fed path for second time this year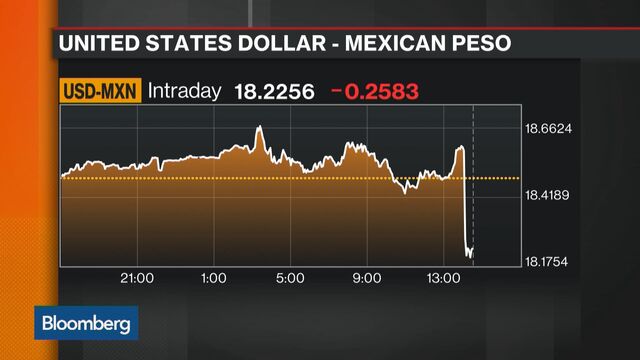 Mexico raised its key interest rate after the peso plunged on the U.K.'s vote to leave the European Union, outweighing concerns revealed in the same central bank decision of a weaker domestic economy. The currency rallied.
Banco de Mexico increased the overnight rate a half-point to 4.25 percent Thursday, saying that while the nation's growth outlook has deteriorated, worsened global economic conditions could impact prices. The median forecast of 26 economists surveyed by Bloomberg was for for a quarter-point increase. With nine analysts predicting no change and the rest divided between a quarter-point and half-point increase, forecasts deviated more than for any other decision since 2013.
It's the second time this year that policy makers led by Governor Agustin Carstens have veered from the Federal Reserve's path of keeping rates on hold, after a surprise rate hike in February, even after they said several times they preferred to match U.S. policy moves. The decision to raise rates more than expected Thursday highlights how far global decisions have overshadowed domestic factors, according to Credit Suisse Group AG.
"Today's move was very bold," said Alonso Cervera, chief Latin America economist at Credit Suisse. "The central bank is acknowledging that the external environment is more complex, that it may drive the peso weaker and we have to respond to it. Growth considerations are very secondary."

The peso strengthened 1.2 percent to 18.2645 per dollar at 2:32 p.m. in Mexico City, the most among 16 major currencies tracked by Bloomberg, and rose as much as 1.7 percent following the decision.
"With this action, the board looks to keep the drop in the peso in recent months and the adjustments in some relative prices from translating into an uprooting of expectations for inflation in our country," officials said in the statement announcing their decision.
Last Friday, the day after the Brexit vote, Finance Minister Luis Videgaray announced new budget cuts of 31.7 billion pesos ($1.7 billion) in a bid to bolster investor confidence in the nation's fiscal position. Videgaray was joined by deputy central bank Governor Roberto del Cueto, who said the Banxico board would watch Brexit's impact carefully.
The peso, often used as a proxy for risk in other markets, was caught up in the sell-off that saw stocks plunge across the globe and the British pound fall the most on record. While Mexico's currency has rebounded from a record low following the vote, it was down 6.9 percent this year through Wednesday, the most among major currencies after the British pound.
Mexico's "risk premium is increasing" said Benito Berber, senior economist for Latin America at Nomura Holdings Inc., before Thursday's decision. "It's associated with a potential win from U.S. candidate Donald Trump, the impacts of Brexit on the global economy and fiscal worries in Mexico."
Peso, Pass-through
Annual inflation has remained below the central bank's 3 percent target for a year, and slowed more than expected in early June. Nevertheless, the peso's weakness continues to raise concerns of an increase in consumer prices, an effect known as pass-through.
"Banxico has been forced to act before it's too late," Gabriel Lozano, chief Mexico economist at JPMorgan Chase & Co, said before the decision. "A lingering weak exchange rate increases the risk of further price revisions."
Not everyone agreed that Thursday's half-point rate increase was a good idea: "Bottom line: rate hikes won't prevent peso weakness when sentiment turns again," said Win Thin, the head of emerging-market strategy at Brown Brothers Harriman in New York.
Carstens said in April that Mexico can increase borrowing costs gradually and in line with the Fed without hurting the economy. Since then, Banxico has cut its 2017 growth forecast on sluggish exports. The Fed kept rates on hold in mid June, and markets reduced their forecasts for any U.S. rate move this year to 12 percent after Brexit clouded the outlook for global growth.
Banxico's decision "sent a strong signal that they're worried about developments and the fact that uncertainty continues," said Marco Oviedo, chief Mexico economist at Barclays Plc, who predicted Thursday's increase. "The external environment has become more complicated."
Before it's here, it's on the Bloomberg Terminal.
LEARN MORE