Lions Gate Buys Starz for $4.4 Billion in Premium Cable Push
by and
Independent film, TV studio will pay cash and stock for Starz

Acquisition makes Lions Gate a player on the pay-TV dial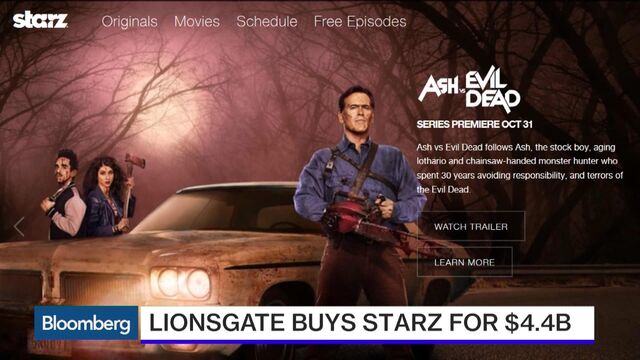 Lions Gate Entertainment Corp. agreed to buy billionaire John Malone's Starz in a cash and stock deal valued at $4.4 billion, gaining premium cable-TV channels to operate alongside the studio that produced "The Hunger Games" and "Mad Men."
Most Starz shareholders will get $18 a share in cash and newly issued non-voting stock in Lions Gate, for a total value of $32.73 a share. That represents an 18 percent premium based on recent trading, the companies said in a statement Thursday. The price tag includes $1.1 billion in assumed debt
Shares of Starz rose as much as 15 percent to $32.39 for the biggest intraday gain since November 2011, and were trading at $30.97 at 12 p.m. in New York. Lions Gate climbed as much as 12 percent to $23.37 before slipping to $21.21.
The companies have been the subject of merger speculation since February 2015, when they exchanged minority stakes and Malone joined the Lions Gate board. Two other Malone companies, Liberty Global Plc and Discovery Communications Inc., later acquired stock in Lions Gate. The cable mogul, worth $8 billion according to the Bloomberg Billionaires Index, has spoken publicly about rolling up media companies to gain scale. 
Malone's role in the company could mean more deal-making, Macquarie Group Ltd. analyst Amy Yong said in an interview Thursday.
"Malone is always very focused on not only the economics but also on the controlling aspect of any deal, and this seems to satisfy both," she said. "He sits on the board of Lions Gate, and I think he still wants to at least understand what's going on in media, add value and create value."
Online Streaming
The combination of Lions Gate and Starz creates a more diverse media company, with annual revenue exceeding $4 billion. Its interests span film and TV production, and will include the Starz and Encore cable networks, serving about 56 million subscribers. Starz had 2015 sales of $1.7 billion, while Lions Gate tallied $2.36 billion.
"Starz brings free cash flow and a steady subscription-based business that can offset volatility for a studio business," said Yong, who has buy ratings for both Lions Gate and Starz.
In addition to movies and original programming, Lions Gate gets Starz's new online-only subscription video service to use as an outlet for its own content, Chief Executive Officer Jon Feltheimer said on a conference call with analysts.
"The new Starz app is really doing extremely well, particularly on the Amazon platform," Feltheimer said. "I can't imagine that we won't have a smart strategy about consolidating infrastructure and expanding a portfolio of services together."
In recent weeks, CBS Corp. and AT&T Inc. had expressed interest in Starz, according to a person familiar with the matter. Starz never held a formal auctioning process but drew interest from both companies, the person said.
Box-Office Busts, TV Growth
Lions Gate has struggled at the box office as one of its biggest franchises, "The Hunger Games" concluded with no obvious replacement. This year brought a series of box-office disappointments, such as "Gods of Egypt" and the last installment of its series "The Divergent Series," and the shares have fallen 35 percent this year.
The company has been growing its TV business, with shows like the popular Netflix series "Orange Is the New Black," to counter the volatile film business.
While Lions Gate currently has one class of stock, the company is splitting its shares into voting and non-voting stock. Under the deal, Starz Series A stockholders will receive $18 in cash and 0.6784 a share of Lions Gate non-voting stock. Starz Series B holders will get $7.26 in cash and 0.6321 of a share of Lions Gate voting stock and 0.6321 of a share of Lions Gate non-voting stock, according to the statement.
Lions Gate will fund the cash portion of the deal with bank loans and bonds, increasing its debt leverage to as much as 5.5 times earnings, excluding savings from cost overlaps.
'Not Too High'
"That's not too high at all, especially given Starz has a very visible revenue and cash-flow stream due to the contracts it has," said Robert Routh, an analyst at FBN Securities Inc., who recommends buying Starz stock.
An all-cash deal would have over-leveraged Lions Gate and saddled Starz shareholders with higher taxes -- a "foolish" course, Routh said.
"A lot of the investors in Starz don't want to pay taxes, and they also want to participate in the future of the new entity -- and an all-cash deal would not have allowed that," he said.
Lions Gate Chairman Mark Rachesky will be the largest shareholder in the combined company, both in voting and equity interest, with a 14 percent stake, according to a person familiar with the matter. This month, Starz Chief Executive Officer Chris Albrecht signed a new contract to remain until 2021.
PJT Partners is serving as Lions Gate's financial adviser on the deal, while Wachtell, Lipton, Rosen & Katz and Dentons are providing legal counsel. LionTree Advisors is serving as Starz's financial adviser, and Baker Botts LLP is its legal adviser.
Before it's here, it's on the Bloomberg Terminal.
LEARN MORE