Let's Talk It Over, Says BOJ, as Banks Lead Japanese Bond Revolt
By , , and
Nation's lenders cut bond trading to all-time-low in May

'Investing as a business no longer makes sense': SMBC Nikko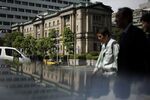 Struggling to feel positive about negative yen bond yields? Record-low trading getting you down? The Bank of Japan wants to hear from you.
The BOJ has added its own surveys of investors and primary dealers since last year, on top of separate Ministry of Finance panel discussions with traders and economists. Never before have Japanese authorities opened so many avenues of discourse with market participants.

More communication hasn't prevented an exodus from the bond market. Japan's major banks cut trading of the nation's sovereign debt to an all-time low in May, when nine in 10 investors in a BOJ poll said market functioning had either decreased or failed to improve. Primary dealers told MOF officials last week that some clients worry all yields will turn negative, from about 85 percent now. A unit of the country's biggest lender, Bank of Tokyo-Mitsubishi UFJ Ltd., is considering withdrawing as a primary dealer, after Royal Bank of Scotland Group Plc exited more than a year ago on concern central bank bond-buying stimulus is distorting the market.
"Investing as a business no longer makes sense in a market where liquidity is dwindling, while trading declines," said Hidenori Suezawa, a monetary and fiscal analyst at SMBC Nikko Securities Inc. in Tokyo. "The problem is there are simply not enough bonds to trade, so it makes no difference if officials increase communication with the market. They must realize that."
Trading volume among major banks dropped by a third to 10 billion yen ($98 million) in May from the previous month, according to Japan Securities Dealers Association. The average over the past decade is 40 billion yen.

Yields are negative on tenors as long as 15 years, with the benchmark 10-year note yielding a record-low minus 0.26 percent Friday in Tokyo. At the start of the year, it yielded 0.27 percent.

"Yields have gone way below the levels to justify holding them," said Toru Suehiro, the senior market economist at Mizuho Securities Co. in Tokyo. "The BOJ has accepted that reduced bond trading is a side effect of their unprecedented stimulus. They used to talk about the problem in their meetings with bond participants, but it's seems like they've sort of given up now."
BOJ Governor Haruhiko Kuroda said in April that Japan's financial markets would be in worse shape if the central bank hadn't adopted a negative deposit rate this year, while adding "it's important to consider whether there are any measures that should be taken by the market as a whole so that the market is able to adapt to changes and function properly." He said in an interview on Japanese television last month that the results of monetary policy don't always turn out as expected.
Main Street Voice
The central bank doesn't only listen to the financial industry. It's also got its ears to Main Street, conducting a quarterly survey "on the general public's views and behaviors," to try and gauge if its policies are making a dent in the nation's deflationary mindset.
In the latest release, conducted March, a majority of consumers said they expect to be spending less in a year from now for the first time since the March 2015 poll.
If the BOJ needs a more telling anecdote than that, it can look to Shinsei Bank Ltd.'s study of the average salaryman's pocket money. They had the equivalent of around $12 a day -- near the lowest level since 1982.