Hedge Funds Set for Worst First Half Since '11 on Turmoil
by
Managers lost 1.1% on average through June 29, HFR index shows

Criticism mounts over high fees and crowding into same trades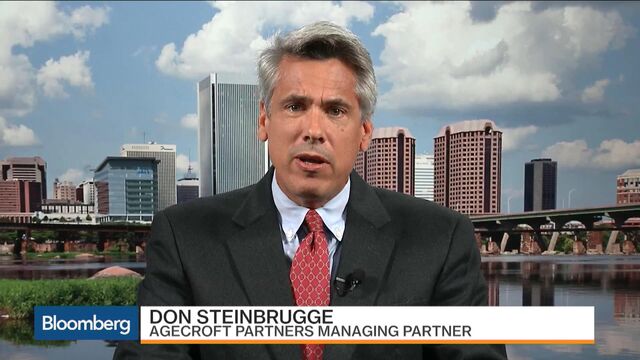 The first six months of the year is turning out to be a period hedge fund managers want to forget.
With China's currency causing global market turmoil in January and the U.K. vote to quit the European Union doing the same in June, the $2.9 trillion industry is headed for its worst first-half performance since 2011.
"There have been a lot of intrinsic shocks this year, especially after managers got relatively comfortable with betting on rising markets for the last several years," said Ronan Cosgrave of Pacific Alternative Asset Management, an Irvine, California-based firm that invests client money in hedge funds.
Hedge fund managers, who charge clients hefty fees to see around corners, struggled to navigate markets marked by wide stock swings, a commodity selloff and divergent monetary policies. The industry has suffered billions of dollars in withdrawals, with a forecast for further shrinkage, and criticism over everything from a talent shortage to crowded trades. Insider-trading charges against a manager, who committed suicide days after his arrest this month, reminded the industry that it's still in the sights of U.S. authorities three years after billionaire Steve Cohen's firm pleaded guilty to securities fraud.

Pershing, Lansdowne
Funds lost 1.1 percent this year through June 29, according to Hedge Fund Research Inc.'s Global Hedge Fund Index, on pace for the worst first-half performance since 2011, when they slid 2.1 percent. Firms will update investors on their June returns starting Friday.
Bill Ackman is among the losers, extending his slump after a dismal 2015. The publicly traded security of his activist fund dropped 21 percent through June 21, according to the Pershing Square Holdings Ltd. website. Lansdowne Partners, one of Europe's largest hedge funds, fell about 14 percent through June 24 in its main pool, while its Developed Markets Strategic Investment Fund declined almost 16 percent, a client update shows.
Managers started on a bad footing as the yuan weakened sharply in January, leading to a 2.8 percent decline for the industry. Multimanager funds, some of which held similar positions, were hit hard in February as their tight risk controls forced them to sell securities at the same time, further depressing prices. Some of the most prominent managers were hurt in mid-March by their holdings in Valeant Pharmaceuticals International Inc. when the stock plunged anew.
Around the same time, manager Crispin Odey called markets a "battlefield" as his portfolio was rising and falling by more than 5 percent a day. In an April letter to clients, Dan Loeb said the business was in the first stages of a washout after one of the most "catastrophic" performances he's seen since he started his hedge fund in the 1990s. Funds including Martin Taylor and Nick Barnes's Nevsky Capital and Barry Wittlin's WCG Management liquidated, while Brevan Howard Asset Management and Tudor Investment Corp. were hit with investor withdrawals.
'Golden Age'
At investment conferences in April and May, Cohen bemoaned a paucity of talent, while the China Investment Corp. criticized managers for charging high fees. Short-seller Jim Chanos said the industry is suffering from "smart guy syndrome," with managers betting on or against securities based other people's ideas instead of their own. Billionaire manager Leon Cooperman said the "golden age" for hedge funds is long gone. He told clients in March that he and his Omega Advisors are being probed by regulators over one of its investments.
That month, Jacob Gottlieb, founder of Visium Asset Management, told investors that his firm was being also being investigated by U.S. authorities. One of its money managers, Sanjay Valvani, was put on leave in April. Less than a week after he was charged with securities fraud in June, Visium all but closed its business, and Valvani was found dead at his Brooklyn home after taking his life.
The so-called Brexit referendum punctuated the end of the first half. Few major casualties have been reported since last week's vote as managers scaled back bets ahead of the decision. Computer-driven funds are among those that profited during the immediate turmoil.
Some managers have bucked the trend by making money in 2016. Robert Gibbins, who runs $3.5 billion Autonomy Capital in New York, gained about 13 percent through June 24, according to an investor. Jeff Talpins's $8 billion Element Capital Management was up 7 percent through May in its macro fund before posting further gains in June, said a person with knowledge of the New York-based firm. Element had raised $1.5 billion from investors for that pool in March.
Spokesmen for the hedge funds declined to comment.
Before it's here, it's on the Bloomberg Terminal.
LEARN MORE