Gwen Stefani, Bruno Mars Take Music Fight With YouTube to EU
by
Artists urge changes to copyright laws favoring web companies

Musicians have sought similar changes to U.S. copyright law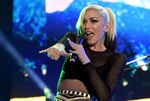 Gwen Stefani and Bruno Mars joined more than 1,000 artists in a letter asking European regulators to alter copyright laws that they say let YouTube profit from their music without properly compensating them.
In a letter to European Commission President Jean-Claude Juncker, the artists bemoaned the discrepancy between how much music people listen to on the Google video site and how much money is paid out to artists.
"The future is jeopardized by a substantial 'value gap' caused by user upload services such as Google's YouTube that are unfairly siphoning value away from the music community and its artists and songwriters," the artists wrote. "We urge you to take action now to create a fair playing field for artists and rights owners."
Taylor Swift and Paul McCartney signed a similar letter earlier this month petitioning the U.S. Congress to reform copyright law. The record industry has recruited artists to help fight YouTube, hoping they can energize the public and apply greater pressure on the video site owned by Alphabet Inc.'s Google. The music industry's three major labels are in the middle of negotiating new long-term deals with YouTube.
In particular, the artists want regulators to alter safe-harbor provisions, which shield services such as YouTube from liability when users upload copyrighted material without permission.
The music industry has long argued that the law placed too much of the burden on artists to police websites and allowed internet services to host pirated material with impunity.
"The voice of artists in Europe is key and it's great that more and more are speaking out," said Helen Smith, executive chair of Impala, a consortium of independent record labels.
The Internet services have rejected these claims, pointing to tools like YouTube's Content ID that identify infringing material. YouTube has said it has paid out more than $3 billion to rights holders.
"YouTube is working collaboratively with the music industry to bring more money to artists beyond the $3 billion we've already paid out to date," the online video company said in an e-mailed statement. "The overwhelming majority of labels and publishers have licensing agreements in place with YouTube."
The company also said that Content ID automatically handles 99.5 percent of music claims over fan-uploaded content and that the industry is now prospering from the revenue those videos produce.
Separate Setback
The music industry suffered defeat in a separate regulatory matter Thursday, when the U.S. Justice Department recommended no changes to the existing agreements governing how songwriters get paid. Ascap and BMI, two groups that collect royalties on behalf of songwriters, had pushed to alter terms dating back to 1941.
Songwriters say they have lost out in the transition from CDs to digital sales to streaming music. They earn a fraction of what recording artists do.
"We are incredibly disappointed by the unjust way the department has decided to interpret the consent decrees," Martin Bandier, chairman and chief executive officer of Sony/ATV Music Publishing, said in a statement. "Its decision is going to cause a tremendous amount of uncertainty and chaos in a market place that has worked well for years and will adversely impact everyone in the licensing process."
Before it's here, it's on the Bloomberg Terminal.
LEARN MORE