Fed Internationalists Vindicated as Global Risks Lead Policy
By
U.S. policy makers place increasing weight on global factors

Interconnectedness means Fed is more sensitive to Brexit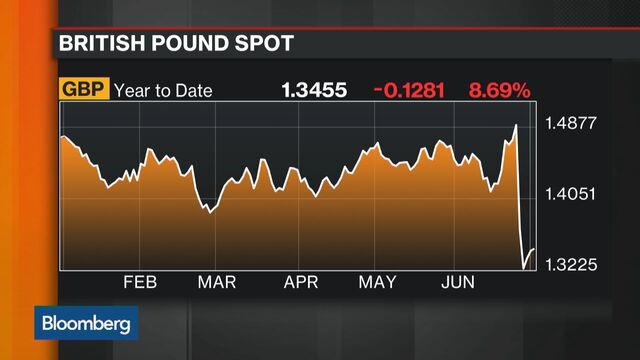 Britain's vote to exit the European Union has been hailed as a vote against globalization. For the Federal Reserve, though, it serves as a reminder of just how much international issues have come to affect monetary policy.
The Fed's mandate is domestic: stable inflation and full employment. But those twin goals can hinge on factors, including growth, financial conditions and consumer behavior, that are influenced by developments abroad.
Against that backdrop, the divide between Fed policy makers who emphasize global risks as a reason to delay rate increases and more domestically focused officials has begun to erode -- and the internationalists are winning the debate.
"There is a tendency to take a look at the U.S. more from a global perspective and I think we're seeing it more and more -- the most recent Brexit event is a clear demonstration of that," said Gregory Daco, head of U.S. macroeconomics at Oxford Economics Ltd. in New York. He said the shift toward a more global way of thinking has happened over the past two to three years and "gained momentum" in recent months.
Global Headwinds
The Fed has pointed to global events when delaying an interest-rate increase at least three times in the past 12 months -- when the Chinese devalued the yuan in 2015, roiling global markets, then as slower Asian growth spooked markets in the first quarter, and more recently ahead of Britain's European Union referendum.
After Brexit, global risks have again intensified -- Mark Carney said Thursday that the Bank of England will probably have to ease policy within months to deal with the fallout, and the European Central Bank is considering loosening the rules for its bond purchases to ensure enough debt is available to buy in the aftermath of the vote, according to euro-area officials familiar with the discussions. Increased turmoil abroad could also impact Fed thinking.
"We're the central bank of the United States, and that is our obligation," Dallas Fed President Robert Kaplan said in an interview on Thursday in Washington. "Having said that, in order to serve the United States, we've got to be aware of, and up-to-date on, financial and economic conditions globally. Increasingly, in a world where we're more globally interconnected, it's more likely to have an effect on us."

Fed Governor Lael Brainard, a former undersecretary for international affairs at the Treasury Department, became an early voice warning in a speech last October that global risks could make rate increases unwise. Her view didn't stop the Fed from raising rates in December.
"She probably recognized some of the potential for those risks to have an effect on U.S. policy, perhaps more then some of her colleagues," said Omair Sharif, senior U.S. economist at Societe Generale in New York. "If anything, that probably led some of them to study it more."
Gaining Traction
Several of Brainard's colleagues -- Kaplan and Fed Governor Jerome Powell among them -- have since detailed how global events are shaping their thinking.
"Global economic and financial conditions are particularly important for the U.S. economy at the moment," Powell said Tuesday in Chicago, adding that Brexit has shifted risks further to the downside. "As the global outlook evolves, it will be important to assess the implications for the U.S. economy, and for the stance of policy appropriate to foster continued progress toward our objectives."
Such views don't go uncontested. Richmond Fed President Jeffrey Lacker, who has long favored hiking rates, said in an April speech that past global-market disruptions that have caused the Fed to delay hikes have often been "false signals."
Policy Divergence
At the same time, Lacker said that as the Fed tightens and other global central banks ease, the Fed should pay attention to "how policy divergence might affect the domestic outcomes for which we are accountable, for instance through its effect on exchange rates."
A paper that San Francisco Fed President John Williams released this month with Fed Board co-authors Thomas Laubach and Kathryn Holston goes even further, suggesting that in a global era, policy coordination might be beneficial.
Neutral interest rates -- those that neither stoke nor hamper growth -- have fallen in the U.S., U.K., euro area and Canada, suggesting that global factors may be at play in the decline, they found.
Lower neutral rates make it more important to keep an eye on the situation abroad when setting monetary policy, in part because they make it hard to lift rates much above zero and leave policy makers less room to cut in a crisis. In such an environment, other economists have found that both "international spillovers and the benefits from international policy coordination may increase," Williams and his colleagues write.
Internationalists are expected to continue to hold sway at the U.S. central bank. Traders in federal funds futures have almost entirely priced out a rate increase this year in the aftermath of the U.K. referendum, and see a reduction as a small possibility as soon as September. Fed officials at their June 14-15 meeting projected two rate increases in 2016, according to their median estimate.
"We've been hit by these different sorts of shocks," said Jay Bryson, global economist at Wells Fargo in Charlotte, North Carolina. Whether international events continue to top the agenda "depends on what we see going forward -- and these things by definition are sort of un-forecastable."