European Union's Credit Rating Cut by S&P After Brexit Vote
Flavia Krause-Jackson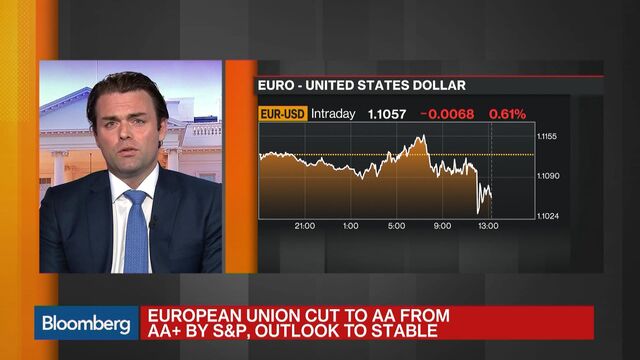 The European Union had its debt downgraded by S&P Global Ratings as the aftershocks of the U.K. vote to abandon the 28-nation bloc reverberated across global markets.
S&P lowered the rating to AA from AA+, citing fiscal concerns for the EU once it loses one of its wealthiest contributors. That puts the EU in the same league as Kuwait and Qatar, below Finland and Austria.
"Going forward, revenue forecasting, long-term capital planning, and adjustments to key financial buffers of the EU will be subject to greater uncertainty," S&P said in a statement Thursday.
The downgrade comes after top rating companies cut the U.K.'s credit score and on the day Bank of England Governor Mark Carney signaled interest-rate reductions were on the horizon in a bid to calm investors unsettled by last week's referendum result.
Still, S&P set its outlook as stable, a reflection of its view "that no other member states will leave the EU, and that the 27 remaining EU members will reaffirm their support to the EU and its key spending programs."
(Adds comparable ratings in second paragraph.)
Link to Statement:Link
Before it's here, it's on the Bloomberg Terminal.
LEARN MORE