Business
Carney Signals Rate Cuts as Brexit Chaos Engulfs Political Class
By
Carney Signals Rate Cuts as Brexit Chaos Engulfs Political Class
By
Governor says uncertainty could remain elevated for some time

Next BOE monetary-policy announcement is due on July 14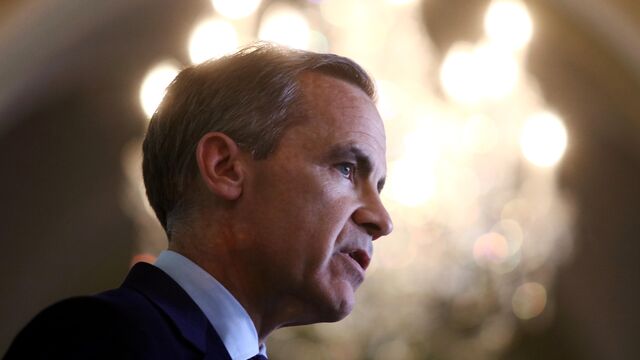 Mark Carney signaled the Bank of England could cut interest rates within months as the central bank tries to shield an economy rattled by the shock of Brexit and the chaos engulfing Britain's political classes. 
In his second televised address since the country voted to leave the European Union, the governor said on Thursday that officials won't hesitate to act when it comes to safeguarding the economy or the resilience of the financial system. The BOE will also continue its liquidity auctions for banks on a weekly, rather than monthly, basis and consider a "host of other measures." The pound slumped as investors increased bets on a rate cut by August.

"It now seems plausible that uncertainty could remain elevated for some time," Carney said. "The economic outlook has deteriorated and some monetary policy easing will likely be needed over the summer."
The comments capped a day full of political shocks. Boris Johnson pulled out of the race to be the next British prime minister after a savage attack from former Brexit ally Michael Gove, who will now compete for the job with Home Secretary Theresa May. That creates more uncertainty at a time when the opposition Labour party is already in disarray and the U.K. remains in limbo regarding its trading relationship with its biggest market.
"Carney's trying to offer a policy backstop that's not coming from elsewhere," said Chris Hare, an economist at Investec in London and a former BOE official. "When there's a lot of political uncertainty and a lack of a clear steer on what's likely to happen in a post-Brexit world, you can see why the governor feels particularly keen to soothe markets."

Meeting Schedule
Hare said action could come as soon as the Financial Policy Committee's next policy announcement on July 5, while monetary stimulus would probably be teed up at the next decision on July 14, in time to be announced at the following meeting on Aug. 4.
WATCH LIVE: Markets coverage and the latest Brexit news on Bloomberg TV
Any loosening by the BOE would be its first since 2012, when it last expanded its asset purchase program. Its key interest rate has been at a record-low 0.5 percent since March 2009. Having previously said that was the lower bound, the BOE has since signaled it can go closer to zero, though Carney said officials will keep a close eye on any impact on lenders.
"Over the horizon, in the near horizon, there's the FPC decisions next week, there are two Monetary Policy Committee meetings this summer, July and August, and I would look at those as a bit of a package, as meetings," Carney said. "And there's a value to setting expectations, providing a bit of a short-term road map around that, and a framing."
Sterling Falls
The pound dropped 1.4 percent, weakening to $1.3247 at 5:43 p.m. London time. U.K. gilts advanced, with the 10-year yield touching a record-low 0.861 percent. The FTSE-100 Index closed at the highest since August.
Sterling has fallen about 11 percent since the EU vote. Asked about the initial drop after the referendum result, Carney said big moves were to be expected and there had been a need for the pound to "find a new level."
"While the currency was moving, it wasn't moving because of market technicals, it was moving because of opinions," he said. "And when the market is functioning, you don't want to get in the way of it."
Carney said the U.K. needs a "comprehensive strategy for engaging with EU and the rest of the world," highlighting trade, migration, capital flows and regulations as key areas. "Plan beats no plan," he said, citing former U.S. Treasury Secretary Tim Geithner.
Political Drama
That sentiment followed hours of political drama as Johnson, the former favorite to lead the Conservative Party, bowed out of the context to succeed David Cameron as premier. Gove made a stunning entry in to the race, competing with May and three other contenders.
While flagging that stimulus may be needed for the U.K., which could mean actions such as interest-rate cuts or quantitative easing, Carney said this was his view and not that of the nine-member MPC.
The panel will publish an initial estimate after its regular meeting in July and a fuller review in August, when it releases new forecasts. That suggests August is the more likely month for any action. He also said the "material slowing" identified in May as a risk in a Brexit scenario is now likely to be the MPC's central forecast.
"We expect lower rates will be sanctioned at the early August meeting," said George Buckley, an economist at Deutsche Bank in London. "Carney also suggested against using negative rates, which supports our view of rates falling to 0.10 percent then QE. A preemptive loosening at the July meeting cannot be ruled out."
Traders are pricing in a 75 percent probability of a rate cut by the August meeting. That's up from 15 percent on the day of the referendum.
The Canadian-born governor, who celebrates his third year in charge this week, said he won't shy away from "ruthless truth telling" and issued a thinly veiled warning to the government that it has the ultimate responsibility to ensure the wellbeing of the nation.
Echoing the regular refrain from central bankers frustrated with the efforts of governments to help support their economies, Carney said that there are limits to monetary policy.
It "cannot fully offset the economic implications of a large negative shock," he said. "The future potential of this economy and its implication for jobs, wages and wealth are not the gifts of monetary policy makers. These will be driven by much bigger decisions; by bigger plans that are being formulated by others."
Watch Next: Carney Defends Brexit Warnings
— With assistance by Jill Ward, and Lucy Meakin
(
Updates with comment from economist in fifth paragraph.
)