Candidates Prep Pitches to Succeed Cameron as U.K. Leader
by
May offers unity and openness, Johnson post-Brexit optimism

Crabb, Fox other contenders for Conservative party leader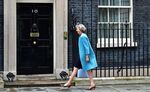 U.K. Home Secretary Theresa May and former Mayor of London Boris Johnson will make their pitches Thursday to succeed David Cameron as Conservative Party leader.
A week after Cameron resigned following his defeat in the referendum on European Union membership, both will argue they can unify a party ripped apart by a vicious campaign. May will contrast her state education and business background with those who see government as "a game." Johnson will seek to build on his success as a leader of the Leave campaign by portraying a bright future outside the EU.


The winner will immediately have to make some of the most momentous decisions in Britain's post-war history and decide what sort of relationship the country should have with the bloc.
May, who backed the Remain campaign, will pledge to put a pro-Brexit minister in charge of the negotiations, and plans to say that the process will not be "brief or straightforward." Another contender, Pensions Secretary Stephen Crabb, has warned of its "mind-boggling complexity."
The only respite to the political chaos is that markets have settled after the vote sparked the biggest sell-off of the pound for three decades.
Trade, Immigration
The challenge for the candidates is to convince Conservative lawmakers and party members that they can deliver access to the European single market while ensuring restrictions on immigration to Britain. The EU has said it would only give access to the market if the U.K. accepts free movement. Other questions include when exit talks will be triggered, with the EU pushing for a speedy divorce, and whether any of the candidates plan to call snap elections.

May leads Johnson by 55 percent to 38 percent among Tory members, according to a poll by YouGov Plc for the Times newspaper. She is due to launch her campaign at 9:30 a.m. in London. Johnson will follow two hours later.
The turmoil has been bipartisan since last week's shock referendum result. Labour leader Jeremy Corbyn has rejected a chorus of calls to quit from within his party after losing a motion of no confidence, but now faces a leadership challenge. With a general election possible later this year, the next Labour chief might just become prime minister before Christmas.
"We need a bold, new, positive vision for the future of our country -- a vision of a country that works not for a privileged few but for every one of us," May will say on Thursday, according to extracts released to the Press Association newswire. "The job now is about uniting the party, uniting the country and negotiating the best possible deal for Britain."
For more news on Britain's decision to leave the EU, click here.
During the referendum campaign "what came out to us very, very clearly was what mattered most to people was getting control of our borders," Crabb said at the launch of his campaign on Wednesday. "It's going to be very hard reconciling that with free access to the single market as we have at the moment."

Crabb became the first contender to formally declare his bid on Wednesday and, like May, stressed his working-class background in contrast to the privileged upbringing of Cameron and Johnson. He said it was time for the party and the nation to reconcile before starting Brexit negotiations, and rejected calls for a second referendum or a quick general election.
Fox Bid
Former Defense Secretary Liam Fox said in an LBC radio interview he plans to join May and Johnson in formally announcing his candidacy before Thursday's noon deadline. Fox stood unsuccessfully for the top Tory job the last time it was contested in 2005, losing to Cameron. Seen as a Thatcherite and popular on the right wing of the party, he came out on the winning side of the Brexit referendum, having been a vocal advocate of Leave.
"We can't allow the Conservative leadership campaign to be totally dominated by the issues in the referendum," Fox told LBC. "There are many other issues that I care very passionately about. This is a special country and we should start feeling special about ourselves."
The candidates will be whittled down to two in a series of votes by lawmakers before being offered to party members in a national postal ballot. Health Secretary Jeremy Hunt and Education Secretary Nicky Morgan are also mulling bids while Energy Secretary Amber Rudd and Chancellor of the Exchequer George Osborne have ruled themselves out.
Before it's here, it's on the Bloomberg Terminal.
LEARN MORE