Cameron Seeks to Reassure Business Leaders on Brexit Transition
by
In meeting with executives, Cameron talks up opportunities

Lack of clarity on trade, immigration leaves firms in limbo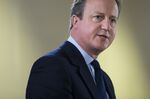 With the pound falling and politicians squabbling, Prime Minister David Cameron moved to reassure U.K. business leaders that their voices would be heard as the country prepares to leave the European Union.
As five members of Cameron's Conservative Party on Thursday mounted bids to replace him, the departing prime minister held a closed-door meeting with members of his Business Advisory Group. Cameron urged them to work with a new ministerial panel, headed by Business Secretary Sajid Javid, that will oversee the so-called Brexit, a spokesman said.
Cameron, who plans to step down in early September to make way for a new government, sought to calm nerves by saying there would be no immediate change for business after last week's referendum on EU membership and talked about opportunities to expand exports to other markets, the spokesman said. 
The meeting included several members of Cameron's 19-member advisory group, including EasyJet Plc Chief Executive Officer Carolyn McCall. The invite list was expanded to include executives like Juergen Maier, CEO of Siemens AG's U.K. division, and Carolyn Fairbairn, director-general of the Confederation of British Industry. Javid and Chancellor George Osborne also attended.
The vote has left U.K. Plc in limbo. Companies are operating without a time frame for negotiations with the EU on a new trade deal and immigration rules. Mark Carney, governor of the Bank of England, highlighted those uncertainties in a televised address Thursday.
"All this uncertainty has contributed to a form of economic post-traumatic stress disorder amongst households and businesses, as well as in financial markets," Carney said. "People and businesses need a fixed point by which to navigate."
Business groups are increasingly voicing their concerns over the political vacuum that has emerged following the referendum. Adam Marshall, acting director of the British Chambers of Commerce, wrote to Cameron this week, urging the government to convene a new Business Task Force on Europe to make sure business priorities are included in the EU exit talks.
"We are keen to ensure that the whole range of business concerns and considerations are taken into account in the negotiation to come," he wrote.
Before it's here, it's on the Bloomberg Terminal.
LEARN MORE