Brexit Turns Profit Into Dust for Junk-Bond Investors in Europe
By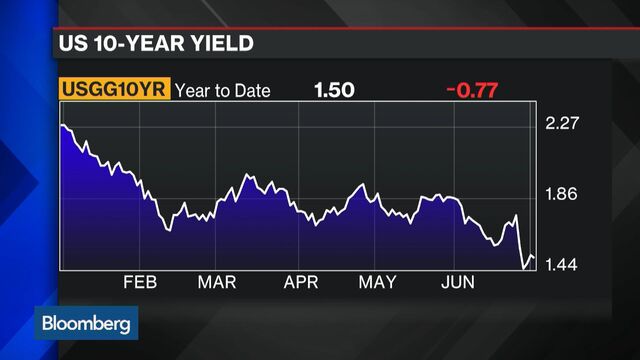 Euro junk bonds posted their first losses in four months after a post-Brexit selloff wiped out gains from central bank stimulus.
Holders lost 0.3 percent in June, mainly because of a two-day rout following the U.K vote to leave the European Union, based on Bank of America Merrill Lynch index data. Investors in sterling high-yield notes have suffered the first losses since February.
The surprise referendum result ignited global economic uncertainty, causing investors to flee high-yield assets including junk bonds and the riskiest type of bank debt. The euro and sterling also tumbled against the dollar and yen, while yields on U.K., U.S. and German government debt fell toward record lows as investors sought the safest assets.
"There is a shock effect," said Colm D'Rosario, a money manager in London at Pioneer Investment Management Ltd., which oversees about 219 billion euros ($243 billion). "The event was not really expected or priced in by the market."
High-yield bonds in euros returned 0.5 percent last month up to the June 23 vote, as the European Central Bank's asset-purchase program pushed investors into risky assets. That meant they were on course for a fourth straight monthly gain, or the longest stretch in two years, based on Bank of America Merrill Lynch index data. The notes have still returned 3.5 percent this year, compared with 4.1 percent for investment grade, the data show.
Brexit Selloff
The Brexit result sparked a selloff that pushed the average yields on euro junk bonds above 5 percent for the first time since April, based on the index data. It has since edged back down to 4.6 percent. The riskiest bank bonds have lost about 2.5 percent since the referendum, wiping out a year-to-date gain, based on a Bank of America Merrill Lynch index.
Groupama SA is the worst performer this month among the 50 biggest issuers in Bank of America Merrill Lynch's euro high-yield index, with a 2.5 percent loss. The French insurance company's 750 million euros of notes maturing in October 2039 dropped to 102 cents on the euro, to the lowest since February, on Monday, according to data compiled by Bloomberg.
Non-investment grade sterling bonds have lost 1.6 percent since the referendum, and 1.1 percent this month, based on a Bank of America Merrill Lynch index. Matalan Plc bonds have suffered the biggest loss since the poll at 8.3 percent, the data show. The U.K. clothing retailer's 342 million pounds ($454 million) of June 2019 bonds fell to a record-low 76 pence this week.
"We are worried about a recession in the U.K. and contagion effect within Europe," said Pierre Beniguel, a fixed-income investor at TwentyFour Asset Management in London, which oversees 6.7 billion pounds. "It is difficult to have a clear view on how things will unravel in the long term, but clearly things look more difficult for risky assets in the short term."