Why Abu Dhabi's Two Biggest Investment Funds are Merging: Q&A
By
International Petroleum Investment Co., Mubadala Plan to Merge

Combination will create company with assets of $135 billion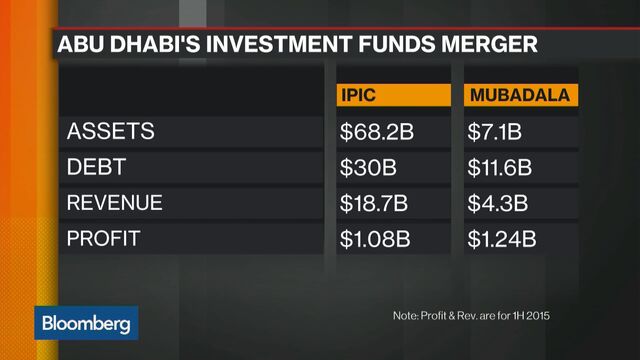 Abu Dhabi said it will merge two of its largest state-owned investment companies as the emirate grapples with a decline in crude prices and a slowdown in economic growth.
The combination of International Petroleum Investment Co. and Mubadala Development Company PJSC will be overseen by a committee including United Arab Emirates' Deputy Prime Minister Sheikh Mansour bin Zayed Al Nahyan and oil minister Suhail Al Mazrouei, according to a statement on state-run WAM news agency Wednesday.
Who are IPIC and Mubadala?
IPIC was formed in 1984 to invest in energy and related industries globally. Today it has stakes in more than 18 companies encompassing oil and gas exploration and production, marketing, petrochemicals and power. Mubadala was set up in 2002 with the aim of diversifying Abu Dhabi's economy away from oil and investing in ventures that could bring technology transfer and other strategic benefits to the emirate.
What businesses and assets do they own?
IPIC's assets include a stake in Vienna-based polyethylene maker Borealis AG, Spanish energy company Cepsa SA and U.S. petrochemicals company Nova Chemicals. Mubadala's 11 divisions include investments in oil and gas, aerospace, semiconductors and real estate. Some of its higher-profile holdings include stakes in semiconductor producer Globalfoundries Inc. and global private equity company Carlyle Group.
| | | | |
| --- | --- | --- | --- |
| | | | In $ billions |
| | IPIC | Mubadala | IPIC+Mubadala |
| Assets | 68.2 | 67.1 | 135.3 |
| Debt | 30 | 11.6 | 41.6 |
| Revenue | 18.7 | 4.3 | 23.0 |
| Profit | 1.08 | 0.17 | 1.24 |
Note: Revenue and profit figures are for 1H 2015
What's the regional context for the merger?
Abu Dhabi -- similar to other Gulf oil-producing governments -- has been hurt by a more than halving of oil prices over the past two years, forcing it to cut expenditure and boost borrowing. Earlier this month, National Bank of Abu Dhabi PJSC and First Gulf Bank PJSC, two of the emirate's biggest banks, said they were also exploring a merger. Both Abu Dhabi and neighboring Dubai have a number of state-backed wealth and investment funds that analysts have long speculated could be merger candidates.
So a merger between Mubadala and IPIC would make sense?
Most analysts see the merger as making sense to combine similar assets. "You can see a degree of investment overlap between the two companies," Rehan Akbar, a corporate finance analyst at Moody's Investors Service, said by phone on Wednesday. "Both Mubadala and IPIC are involved in the energy sector and have oil and gas investments."
Analysts such as Philippe Dauba-Pantanacce, a senior economist and global political analyst at Standard Chartered Plc in London, pointed to the potential economies of scale and sense of using one combined entity to invest across different asset classes.
Would this be a merger of equals?
That depends. The chart below compares the two companies' assets.

While the combined company would have assets of $135 billion -- and the assets of both are nearly identical -- IPIC's debt is about triple that of Mubadala's.

How easy would a merger be to execute?
Both funds are unlisted and owned by the Abu Dhabi government. Sheikh Mansour bin Zayed Al Nahyan is IPIC's chairman, while Abu Dhabi crown prince Sheikh Mohamed bin Zayed Al Nahyan chairs Mubadala. Both IPIC and Mubadala have an identical credit rating and are backed by the Abu Dhabi government. Still, both have bonds outstanding and ownership of those securities would have to be addressed in the event of a merger. There is as of yet no information on which banks are advising on the deal.