Victims of Brexit's Real-Time Recession Already Feeling the Pain
By , , and
Hiring, expansion, investments all on hold after vote

Decision to leave EU 'is a miserable outcome for the economy'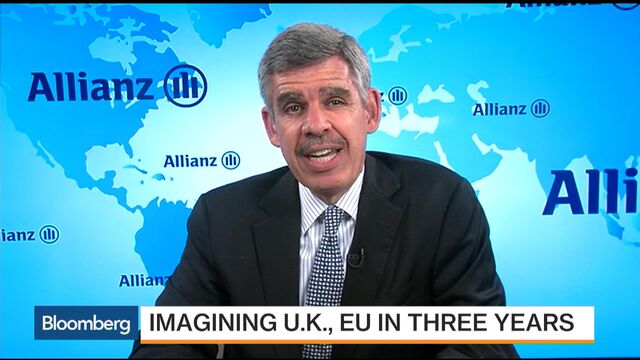 Damian Kimmelman is exactly the kind of entrepreneur the U.K. government says it needs. His London startup has 100 employees and expects to hire many more. Unfortunately for the British economy, Kimmelman's new people won't be in the U.K.: He changed his plans after voters chose to leave the European Union last week.
"We'll be distributing our team, opening up new offices in Europe rather than focusing on the U.K.," said Kimmelman, whose company, DueDil, provides data-analytics tools to study private companies. "This is a miserable outcome for the economy."

Kimmelman is among thousands of U.K. businesspeople, investors and consumers overhauling their plans as a result of the Leave campaign's surprise victory. Hiring is being canceled or moved overseas, investments terminated and expansions shelved. 
It all adds up to what economists warn could be a sudden recession -- especially if politicians don't act fast to lay out a convincing plan for extricating the U.K. from the EU without major disruption. Almost three-quarters of economists consulted in a Bloomberg survey this week said they think the country is headed for its first recession since 2009.
The vote "has unleashed a wave of economic and political uncertainty that likely will drive the U.K. into recession," Samuel Tombs, the chief U.K. economist at Pantheon Macroeconomics, wrote in a June 24 note to clients. "Most firms will postpone capital expenditure, credit will become more expensive and harder to obtain, and consumer confidence will plunge."
Early examples point to real-time economic pain. On Monday real-estate group Foxtons Plc saw its shares tumble as much as 20 percent after it warned Brexit would hammer London's housing market. A day later Revolution Bars Group Plc, an operator of nightspots across the U.K., said it had scrapped a planned acquisition "in light of the market uncertainty following the result."
EasyJet Plc and Ryanair Holdings Plc have both warned of depressed demand for travel as consumers cut spending. Michael O'Leary, chief executive officer of the latter, pledged on Tuesday to allocate 50 planes on order to bases outside the U.K. because its British growth plans are frozen.
The scale of concern reflects the fact that leaving the EU puts into question some of the fundamental underpinnings of the U.K. economy, which has been part of what's now the 28-member bloc for more than 40 years.

Once the world's reserve currency, the pound has dropped to as much as a 31-year low against the dollar amid fears capital would flow out of the country. It may be years before it's clear whether the U.K. will continue to be able to continue to trade tariff-free with the EU, the world's largest single market and the destination of almost half of British exports. 
And there's no clarity as to how the millions of European citizens already living in the U.K. will be able to stay, or the terms under which future arrivals will be allowed. Those questions turn on complex negotiations with the EU, to be undertaken by an unidentified future prime minister after David Cameron steps down this autumn.
For Faiza Ariech, the referendum's impact was swift and brutal. The 48-year-old runs The Language Centre Newcastle, northeast England's largest private language school. Corporate clients -- mostly exporters in engineering, chemicals, and energy -- have put "tens of thousands of pounds" in contracts for courses and translation on ice, Ariech said. 
At about noon on Friday, a private sponsor that underwrote an English and mathematics course for immigrants to the U.K. said it would withdraw its funding immediately. "Teachers working for us were told, 'That's it, no more work for you,'" Ariech said. Six were laid off.
Late Bills
Friday was also a trying day for Ben Farren. The founder of Spoke, a London online retailer of trousers and shorts, sources his wares in Portugal, paying his invoices in euros. "Literally there were bills to be paid on Friday and Monday, and I am absolutely kicking myself for not paying those a few days earlier," said Farren, 38. "I'm eating it because I don't want to pass the cost on to my customers."
Invoices weren't Farren's only headache. Friday, as he was days away from finalizing the sale of his two-bedroom London flat, the buyer asked for a 10 percent price cut because of the referendum result. By Monday, the sale was off, and so was Farren's purchase of a larger home for his wife and two children. For now, they'll have to stay put in their current place.
While full economic statistics won't come in for weeks, the early signs aren't good. A survey of 1,092 business leaders conducted after the referendum by the Institute of Directors, a London-based business organization, found a quarter are freezing recruitment and almost as many are considering moving some operations out of the U.K. In a survey of 2,000 consumers by Retail Economics, a consulting firm, 58 percent said they thought the vote would have a negative impact on their spending on non-essential items.

Supporters of Brexit argue some short-term turmoil is worth it in exchange for a what they say will be a more vibrant economy down the road. In their view, the U.K. will ultimately be able to set more competitive tax policy, remove troublesome regulations and offer a more flexible immigration system than the current regime, which imposes strict restrictions on non-EU citizens.
In the longer run, "there's no question in my mind this will result in a stronger economy, if we take proper advantage of the opportunity," said Howard Shore, the founder of London brokerage Shore Capital and an outspoken proponent of leaving the EU. Some degree of disruption was inevitable, especially until there's a clear road map for a new EU deal, he said. "We should judge this in five years' time, not five days after the vote," Shore added.
Some Europeans aren't eager to be in the U.K. while it all plays out. PsiOxus Therapeutics Ltd., a cancer-focused biotech company based outside of Oxford, was in the advanced stages of hiring a key scientist from continental Europe last week. The candidate turned down the job offer as soon as the referendum results came in, CEO John Beadle recounted. 
"This wasn't a country they wanted to come and work in," he said. "It's not just the actual legality of this. The perception of Britain is already changing from a European's perspective. It's very, very sad."