U.K. Labour Turmoil Worsens as Deputy Leader Tells Corbyn to Go
By and
Labour leader ignores calls to quit after no-confidence vote

Standoff deepens U.K. political crisis since Brexit referendum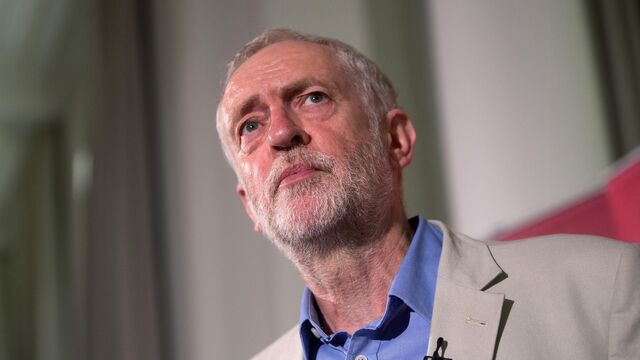 The crisis engulfing the British Labour Party worsened as deputy leader Tom Watson joined the chorus of lawmakers and senior figures urging their chief Jeremy Corbyn to resign.
Watson spoke out after meeting Corbyn on Wednesday afternoon. The day saw the last Labour leader, Ed Miliband, and the last Labour prime minister, Gordon Brown, both tell Corbyn his time was up. On Tuesday, Labour lawmakers passed a motion of no confidence.
Corbyn is refusing to go, arguing that he was voted in by rank-and-file party members with an overwhelming majority. His team say that if Labour lawmakers want to remove Corbyn, one of them should challenge him for the leadership in a vote among the same members. Watson ruled out standing himself.
"It's a great tragedy," Watson told the BBC. "I just think he feels very strongly that he has that mandate from the members. He does have a members' mandate, but you also need a parliamentary mandate if you want to form a government."
'Going Nowhere'
John McDonnell, Labour's economy spokesman and Corbyn's closest ally, was dismissive. "He's not going anywhere," he told Sky News.
The highest-profile intervention of the day came at noon, when Prime Minister David Cameron took part in his first weekly questions session in Parliament since the Brexit vote and his subsequent resignation announcement. After Corbyn quizzed him over the referendum and asked what he planned to do with his remaining time, Cameron vented his frustration with Corbyn's role in the campaign to keep Britain in the European Union.
"I know he says he put his back into it," Cameron told the House of Commons. "All I can say is, I'd hate to see him when he's not trying. It might be in my party's interest for him to sit there. It's not in the national interest. And I would say: for heaven's sake man, go!"
There was silence in the benches behind Corbyn. Labour lawmakers blame their leader's half-hearted campaigning for failing to persuade voters to back "Remain."
Grassroots Support
The standoff between Corbyn and his colleagues deepens the turmoil in a party more divided than at any time in three decades. There's speculation that Angela Eagle, the most senior of the dozens of Labour lawmakers who have resigned from his team in the past three days, is preparing to mount a leadership challenge.
But removing Corbyn may not be easy. Labour leaders are elected on a one-member-one-vote basis and he still enjoys strong backing at grassroots level. Of more than 50 constituency Labour Party chairs and secretaries who endorsed Corbyn last year, 45 continue to offer their support and believe that their constituencies will again nominate the leader in the now inevitable leadership contest, according to BBC Newsnight.
'National Crisis'
"People from all wings of the party in Parliament have lost confidence in Jeremy, so sadly I believe he has to go," Miliband, Corbyn's immediate predecessor, said in a statement broadcast on Sky News. "This is a time of acute national crisis. We need a Labour Party where we have a leader who can speak not just for the party in the country but the party in Parliament."
A BMG poll for Scotland's Herald newspaper found that with a new leader, 48 percent of 1,638 people polled in May would definitely vote for Labour or would consider doing so, compared with 36 percent if Corbyn stays.
In Edinburgh, Brown said on Wednesday that the question is whether Labour can offer people a way of confronting the globalized world so many voters feel cut off from, something shown in the EU referendum.
Meantime, Thursday marks the deadline for nominations to succeed Cameron as leader of the Conservative Party and therefore prime minister. Home Secretary Theresa May and pro-Brexit former London Mayor Boris Johnson are among the likely candidates.