Istanbul Airport Attacks Drive Retreat in Turkey Aviation Stocks
By and
Suicide bombers blew themselves up at Ataturk airport

Prime minister says Islamic State is likely to be responsible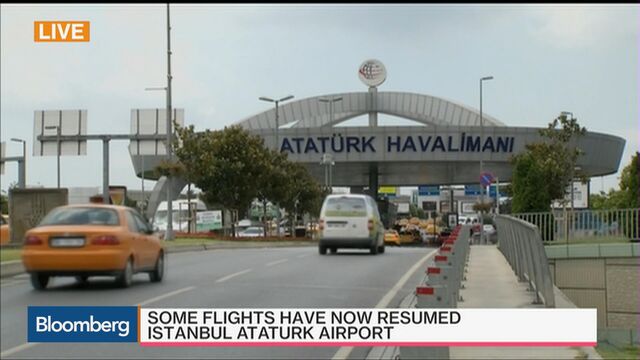 Turkey's aviation stocks fell after coordinated terror attacks at one of Europe's busiest airports threatened to deal another blow to the nation's struggling tourism industry.
Turkish Airlines and airport operator TAV Havalimanlari Holding AS were among the biggest contributors to the decline on the Borsa Istanbul 100 Index after three suicide bombers killed at least 41 people and wounded more than 200 at Ataturk Airport, Turkey's main international hub. Prime Minister Binali Yildirim said early investigations indicated Islamic State was responsible. The main gauge dipped 0.3 percent as the lira tracked gains across emerging currencies, rising 0.4 percent to 2.892 per dollar as of 5:50 p.m. in Istanbul.
The attacks are the latest in a series of blows to the nation's tourism industry, which last month saw the biggest slump in visitor numbers on record. Security in Turkey has deteriorated amid the spillover from Syria's civil war and an escalating conflict with separatist Kurdish militants.
"Imagine one of your factories which makes up about half of your total output is blown up -- that's how serious yesterday's attack is for Turkish aviation companies," Burak Isyar, an analyst at Burgan Yatirim Menkul Degerler in Istanbul, said by phone. "Given the severity of this situation, aviation stocks are likely to plunge further in the coming days. This is a worse scenario than the worst scenario people imagined."
Transit Hub
Turkey's aviation industry relies heavily on Istanbul, where a new airport is scheduled to open in 2018 to replace the one attacked yesterday. Turkish Airlines, which relies on transit passengers to generate about 60 percent of revenue, has long-term plans to turn the city into a global hub. The carrier retreated 2.7 percent.
Ataturk airport made up about 60 percent of TAV Holding's total passengers in the first quarter, according to an investor presentation on the company's website, and generates more than 50 percent of its revenue. TAV sank 6.5 percent as traders exchanged 10.6 million shares, the biggest volume in three years.
Russian Tourists

The Borsa 100 reversed earlier losses of as much as 0.8 percent after Russia said it plans to ease restrictions on travel to Turkey. The announcement follows talks between Russian President Vladimir Putin and Turkish President Recep Tayyip Erdogan after the Kremlin on Monday said Erdogan apologized for the downing of one of its warplanes. A 92 percent slump in Russian holidaymakers was the biggest contributor to a record 35 percent decline in the number of tourists visiting Turkey in May.
Pegasus Hava Tasimaciligi pared a drop of as much as 2.2 percent to close 1.2 percent lower, and ground-handling company Celebi Hava Servisi trimmed its decline to 2.8 percent. The Borsa Istanbul Transportation Index fell 2.7 percent.
Attacks like yesterday's lead "to a tangible economic impact, as can be seen through the crisis in tourism, " said Michael Harris, the head of research at Renaissance Capital Ltd. in London. "Even when we exclude Russia from the figures, Turkish tourism is under considerable strain. This magnifies the importance of improving economic sentiment. That's in the control of politicians."
Before it's here, it's on the Bloomberg Terminal.
LEARN MORE