Three Amigos Unveil Climate and Energy Plan, Nafta Changes
By and
Leaders call for action to address excess global steel supply

Obama, Trudeau and Pena Nieta show unity at Ottawa summit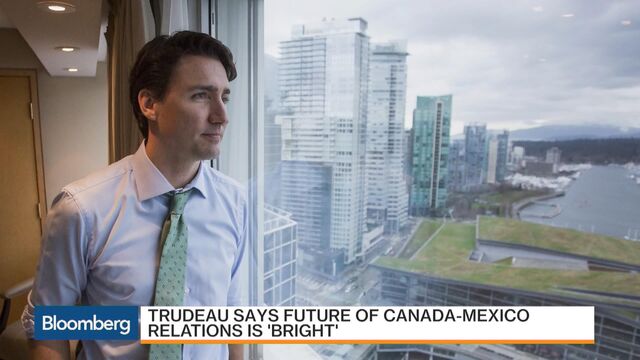 The U.S., Canada and Mexico put climate change at the center of efforts to deepen the North American alliance, pledging to cut greenhouse gas emissions from the oil and gas sector, boost the development of clean power and build new cross-border transmission lines.
President Barack Obama, Canadian Prime Minister Justin Trudeau and Mexico President Enrique Pena Nieto completed a one-day summit in Ottawa Wednesday, where they unveiled a commitment to see half of the continent's electricity generated by clean sources by 2025.
"For too long, we've heard that confronting climate change means destroying our economies," Obama said in a speech to Parliament Wednesday after the summit concluded, praising efforts in Canada and the U.S. to cut emissions and drive growth. "This is the only planet we've got and this may be the last shot we've got to save it. And America and Canada are going to have to lead the way."
The pledges, in what was was Obama's final North American Leaders' Summit, underscore a renewed push to strengthen an alliance that had been soured by the rejection of TransCanada Corp.'s Keystone XL pipeline last year. The improved continental ties were fueled in part by the election of Trudeau's pro-environment Liberal Party to power last year.
The leaders also announced changes to the North American Free Trade Agreement, "liberalizing" rules of origin for a range of products, while calling for action to address excess global steel supply and illicit financial flows that could benefit terror groups.
Clean Energy
The clean energy push includes the development of cross-border electrical transmission projects to boost capacity for trading of clean energy and for reliability and flexibility of the continent's energy grid, the leaders said.
North America's use of clean energy stood at roughly 37 percent in 2015, one White House official said. Reaching the new target, described as a "goal," would grow U.S. clean energy production to 1,900 billion kWh, the White House said in a statement Wednesday.
Mexico will also join the U.S. and Canada in reducing methane emissions from the oil and gas sector by 40 to 45 percent by 2025, with the three countries pledging a methane reduction strategy in agriculture and waste management.
"It's a partnership that lays out some very clear deliverables and that lays out clear paths for achieving them," Trudeau said.
Vehicles, Nafta
The countries will continue to reduce greenhouse gases throughout their economies -- including boosting deployment of "clean vehicles" in government fleets and cutting emissions from both the shipping and airline sectors. They also plan to harmonize fuel economy standards.
The energy plan includes pledges to "phase out inefficient fossil fuel subsidies by 2025," cut black carbon emissions, bring in "world-class ultra low-sulphur diesel fuel and heavy-duty vehicle standards" and boost protection for migratory species habitat. They call on Group of 20 counterparts to do more to cut emissions.
In statements released as the summit began, the three countries announced the Nafta rule-of-origin changes will affect pharmaceuticals, cosmetics, rubber, metals, industrial and electrical machinery, precision instruments and natural gas.
On steel, the countries "agree on the need for governments of all major steel-producing countries to make strong and immediate commitments to address the problem of global excess steelmaking capacity," a statement from Trudeau's office said.
'Fair Trade'
Obama gave a lengthy pitch for more open trade markets in a global economy, though offered steel as a caveat. "Given the flood of steel and aluminum on global markets, however, it points to the fact that free trade also has to be fair trade," he said.
Canada is working with the U.S. and Mexico to "reduce illicit financial flows which weaken and threaten the integrity of the global financial sector to make sure that the sector is not open to exploitation by criminal or terrorist organizations," another statement said.
The pledge comes a day after a bilateral meeting in Ottawa between Trudeau and Pena Nieto. The two countries announced an agreement to move toward resolving two thorns in their relationship, with Mexico agreeing to open its market fully to Canadian beef on Oct. 1 and Canada agreeing to lift a Mexican visa requirement on Dec. 1.
Before it's here, it's on the Bloomberg Terminal.
LEARN MORE