Saudi Arabia Mega Deal Spurs Record First Half for Gulf Loans
by and
$10 billion loan led by international banks tilts league table

NBAD in 9th place among MLAs, highest-ranked local bank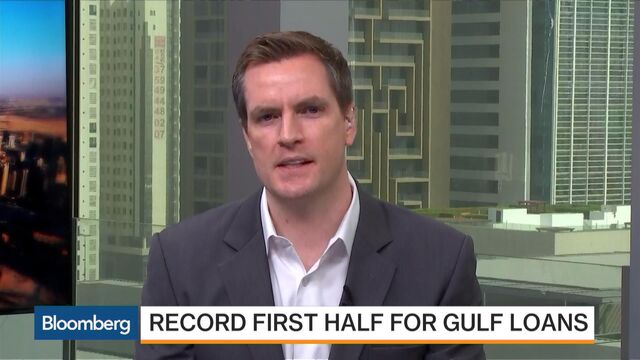 HSBC Holdings Plc is back on top, Mitsubishi UFJ Financial Group Inc. has tightened its grip on second place, while Sumitomo Mitsui Financial Group Inc. is slipping. But however the league table for loan arrangers in the Gulf looks, they're all lending more than ever.
In fact, the market for loans in the six-nation Gulf Cooperation Council has never been so active, with borrowers raising about $66 billion in the busiest first half on record. The largest single deal, Saudi Arabia's $10 billion facility, helped confirm HSBC at the top of the table and cemented the dominance of banks from outside the region at the expense of local lenders.

The region's $440 billion loans market is flourishing as cash-strapped companies and states shore up finances amid the oil slump, with larger international lenders stepping in to meet demand. The slump in crude prices in the past two years has curtailed income for energy-dependent nations across the GCC, and that's sapped liquidity in local banks as governments withdraw deposits.
"We have seen increasing participation from international lenders in loans for top-tier GCC borrowers," said Andy Cairns, the global head of debt origination and distribution at National Bank of Abu Dhabi PJSC, Abu Dhabi's biggest bank. "These upper-echelon names frequently command borrowing costs that are inside the funding levels of many of the regional banks. With oil below $30 in January, we also saw some leading GCC borrowers make a conscious decision to go after international liquidity."
For the full Bloomberg GCC loan arranger league table, click here.
Liquidity Tightens
Deposit growth across the bloc has been outpaced by an increase in lending, driving interbank interest rates higher. In Saudi Arabia, the three-month interbank offered rate rose 67 basis points this year to 2.22273 percent, near the highest level in more than seven years. The loans-to-deposit ratio in Qatar climbed to 132 percent last month as government deposits dropped.

HSBC was the top lender among mandated lead arrangers with about $4 billion, followed by Mitsubishi UFJ's $3.4 billion. Sumitomo's $2.2 billion left it in eighth, while NBAD was the only local name among the top 10, claiming ninth place by providing about $2.1 billion. It's the most any of them have lent in a first half, according to data compiled by Bloomberg.
At the end of the first quarter, HSBC had been in third place, Sumitomo held top spot and NBAD was fourth. The Abu Dhabi-based institution is exploring a merger with First Gulf Bank PJSC as the emirate seeks to create a larger lender.
Before it's here, it's on the Bloomberg Terminal.
LEARN MORE