Oil Optimists Unfazed by Brexit See Oil Closing Year Above $50
by
Bloomberg Intelligence survey shows 62% of respondents upbeat

Dallas Fed says sentiment among producers has improved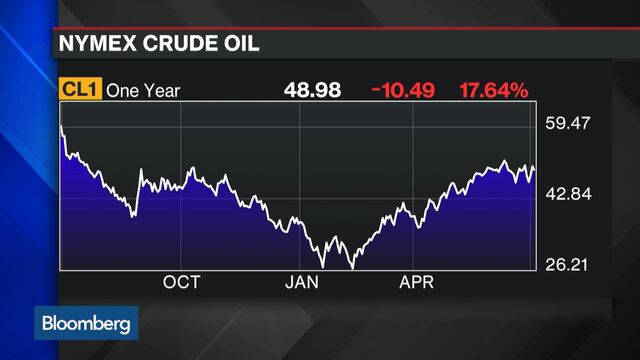 Oil optimists seemed unfazed by uncertainty over demand ahead of Britain's vote to leave the European Union and by signs that supply disruptions are easing, a Bloomberg Intelligence survey shows.
Most respondents said they expect prices to rise further this year, with 62 percent predicting West Texas Intermediate crude will end 2016 at $50 a barrel or higher, the survey of 118 analysts, traders and energy professionals between June 6 and June 22 showed. Of those, 39 percent anticipate oil between $50 and $54, while 23 percent see prices at $55 or more, the study released Wednesday said.
"The general view here is that balances are tightening, that demand is robust especially on the gasoline side as you're heading into the typical driving season," Vincent Piazza, a Bloomberg Intelligence industry analyst, said in a phone interview.
Oil has climbed more than 80 percent from the lowest level in 12 years in February as global supply disruptions and falling U.S. output reduce a surplus. America's crude inventories declined to 526.6 million barrels last week, the lowest since the week ended March 11, the Energy Information Administration said Wednesday. The June 23 Brexit vote wreaked havoc on global financial markets last week but tension has eased on expectation the transition will be smooth.
"When you look at Brexit or other macro fears out there, these are bearish factors for this market," said Michael Tran, a commodities strategist at RBC Capital Markets in New York. "But at the end of the day, demand fundamentals and supply fundamentals are really tightening, and that will ultimately drive oil prices."
Industry Sentiment
The Federal Reserve Bank of Dallas also found that the oil industry is more upbeat. Its business activity index, a measure of sentiment among energy firms in the region, turned positive at 13.8, up sharply from -42.1 in the first quarter, the Dallas Fed said Wednesday. The majority of respondents reported business activity was stable from first-quarter levels, while nearly a third reported activity expanded, according to the Dallas Fed report.
Respondents in the Bloomberg Intelligence survey were even more bullish on Brent crude than on WTI, with 71 percent of respondents expecting the global benchmark to close 2016 at $50 or more.
WTI futures jumped 4.2 percent to $49.88 a barrel in New York on Wednesday, while Brent rose 4.2 percent in London to $50.61.
Before it's here, it's on the Bloomberg Terminal.
LEARN MORE