London Auctions Hit Bump as Richter Pulled, Diamond Unsold
by
Richter painting targeted 14 million pounds at Christie's

Johnny Depp's Basquiat paintings soar, bid up by Asia, U.S.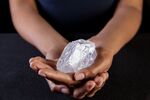 Christie's auction of postwar and contemporary art in London began with a bombshell: The event's star lot, an abstract painting by Gerhard Richter, was withdrawn. That was just minutes after the world's largest rough diamond failed to sell at Sotheby's.
Richter's 1994 "Abstraktes Bild (811-2)" was consigned by an anonymous American collector, according to the auction house. Printed on the cover of the evening sale's catalog, the work, made with a squeegee and rich in green and red hues, was estimated at 14 million pounds ($18.8 million). In the week leading up to the auction, its expected dollar value fell 8 percent as sterling plummeted after Britain voted on June 23 to exit from the European Union.
"We followed the client's instruction to withdraw," said Edmond Francey, head of the auction house's London postwar and contemporary art department. The decision was made shortly before the sale, he added.
A short walk away, the biggest diamond found in more than 100 years failed to sell at Sotheby's. The 1,109-carat diamond that's called Lesedi la Rona, or "our light" in the Tswana language spoken in Botswana, was expected to fetch about $86 million. The highest bid of $61 million didn't clear its reserve price.
Scaled Back
Christie's had estimated its auction at 40.2 million pounds to 57.7 million pounds, but without the Richter, the low target declined by 35 percent to 26.3 million pounds. While the event's tally of 39.6 million pounds surpassed the high estimate, it was Christie's smallest June auction in the category since 2009.
"Normally things are withdrawn if there's a condition issue or they are not fresh" and there are no bidders lined up, said Michaela de Pury, a private art dealer and former executive at Phillips auction house.
Richter's auction sales declined from the high of $262.8 million in 2012 to $178.7 million last year, according to Artprice.com. In 2016, $17.6 million of his works have sold at auction. In February, another abstract painting by Richter, estimated at 14 million pounds to 20 million pounds, was withdrawn from Sotheby's in London.
"There was a froth to that market," said Wendy Goldsmith, a London-based art adviser. "There's been so many that have come up. Most likely everyone who wanted one has one."
The Richter may have been the biggest disappointment at Christie's, which proceeded to sell all but three of the 39 offered lots, boosted by bidding from Asian and American buyers. Ten lots were purchased by U.K.-based buyers, Christie's said.
Basquiat 'Pork'

The evening's top lot was Jean-Michel Basquiat's "Pork," painted on a wooden door in 1981 and sold by American actor Johnny Depp. The work was pursued by at least four bidders and went for 5.1 million pounds, surpassing the high estimate of 3.5 million pounds. The buyer was a client bidding by phone through Elaine Holt, a Hong Kong-based director of impressionist and modern art at Christie's.
Another Basquiat from Depp's collection, a horizontal self-portrait on three boards, realized 3.5 million pounds, more than twice the high estimate. The buyer was Bill Acquavella of Acquavella Galleries in New York. Depp bought the work for $578,000 at Christie's in 2000.
As in previous auctions this week, works by Romania-born Adrian Ghenie were sought after. His small 2011 canvas "Dr. Mengele" drew a flurry of bids, selling for 398,500 pounds, above the presale high estimate of 150,000 pounds. The second Ghenie of the evening, "Lidless Eye," sold for 842,500 pounds, exceeding the high estimate of 550,000 pounds. The buyer was the same client of Holt who purchased "Pork".
Andy Warhol's "Two Dollar Bills (Fronts) [40 Two Dollar Bills in red]" fetched 4.45 million pounds, within the estimated range. The narrow, vertical work displays two columns of bills.
"People are here to buy," said Neal Meltzer, New York-based private art dealer and adviser. "There's a lot of demand. The issue is supply."
Sotheby's similar evening sale on June 28 tallied 52.2 million pounds. Christie's will offer more contemporary art at its 250th anniversary auction on Thursday.
Before it's here, it's on the Bloomberg Terminal.
LEARN MORE