Luxury Travel
Kitesurf With a Pro in St. Barts
Learn from one of the world's best in the Grand Cul de Sac marine reserve.
By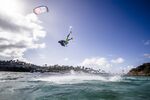 Now, there's an image of Saint Barthélemy you don't often see.
No yachts circling the fort-lined harbor, no glamorous boutiques along Gustavia's Rue de la République. This is the Atlantic side, where 20-mile-per-hour trade winds blow consistently. It's ideal for kitesurfing, a sport embraced by billionaires such as Richard Branson—and one that's becoming more popular, says Rodolphe MacKeene, a former pro who's opening the Kite in St. Barth school in November (from $150 per hour; 590 690 444 397). "You're riding the wave and able to jump in the air"—anywhere from 6 to 9 feet—"and your risk of being injured is limited," he says. The ride you choose depends on whether you want to emphasize waves, freestyle jumps, or speed. And the wind, of course. MacKeene estimates that the sport is 70 percent flying skills and 30 percent board expertise.
Get started in the Grand Cul de Sac marine reserve. Closed off from the ocean by a coral reef, it has warm, shallow water, making it a naturally formed wading pool. "Other places are beautiful," MacKeene says, "but this is special."
Where to Stay: With 600 feet of beachfront access, Le Sereno offers 37 suites (from $651) and three 7,000-square-foot, four-bedroom villas (from $5,142), each with a private pool and garden.
What to Eat: Low-key beach fare such as burgers, tacos, and jerk chicken can be hard to find. Skip Le Select's overrated burgers and get lunch at O'Corail, a beachside restaurant with excellent ceviche and mahi mahi sandwiches. Brunch at Nikki Beach is the place to be, one local said, "if you like spraying Champagne in people's faces." For less of a party vibe, it's hard to go wrong with the local seafood and pastas at Le Tamarin.    
How to Prepare: Go wakeboarding—the concept is exactly the same. And MacKeene says anyone who also has experience flying a dual-line kite can shave their training time by about two-thirds and be ready to go out alone in as little as three hours. 
Best Time to Go: El Niño has wreaked its own special havoc with the wind this year, but in general, the best time is November to April, high season on the island.
Before You Book: Check Wind Guru, the wind-measuring site that MacKeene keeps bookmarked on his phone.
If the Wind Isn't Cooperating: Go to the far north side of the island to Colombier Beach and hike down the rugged 25-minute trail until it deposits you on the white sand below. Above is the promontory where, in 1958, David Rockefeller built a mansion that, although now abandoned, used to welcome jet-setters to the Caribbean from all over the world. 
Before it's here, it's on the Bloomberg Terminal.
LEARN MORE