markets
Italy's Longshot Bank-Bailout Bid Last Chance to Stop Crisis
By , , and
Renzi may be seeking waiver from state-aid rules to save banks

Germany seen against any effort to evade bail-in rules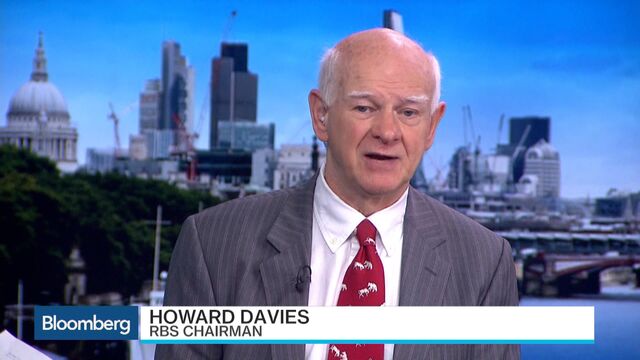 For the last eight months, an urgent question has been echoing through the halls of power in Rome, Brussels and Frankfurt: What's to be done about Italy's banks?
Saddled with some 360 billion euros ($400 billion) in soured loans and a sputtering economy, Italy's lenders have been sliding toward the type of crisis that other European countries dealt with years ago. The government's latest effort -- getting the biggest banks to back a fund to rescue the weakest -- failed to convince investors.
Now, as Britain's decision to leave the European Union threatens the continent's fragile recovery, Italy is sounding out EU leaders on a plan to provide as much as 40 billion euros in aid to troubled lenders, people familiar with the discussions said. Germany would oppose any bailout that doesn't comply with existing bank-failure rules, which include forcing losses on shareholders and some creditors, according to a person with knowledge of the government's stance. Some analysts say Brussels should consider waiving rules for a time to let Italy and other members rescue ailing banks.
"The EU needs to isolate the effects of the U.K.'s exit and make sure it doesn't become a systemic crisis," says Brunello Rosa, managing director of developed markets at Roubini Global Economics, a New York-based consulting firm. "If it doesn't, the worst-case scenario would be increasing uncertainty to unbearable levels and spreading political discontent across Europe."

Italian banking shares tumbled. Shares in UniCredit SpA, the largest, dropped as much as 5.8 percent by 11:47 a.m. in Milan, bringing the decline this year to 61 percent. Intesa Sanpaolo SpA, the second-biggest, slid as much as 5.3 percent.
An Italian banking bailout would evoke the darkest days of 2008 and 2009, when governments on both sides of the Atlantic were forced to save their financial systems with public funds. It would also be a blow to the EU's efforts to protect taxpayers from the vagaries of the financial world. In 2013, lawmakers approved rules that took full effect this year requiring bondholders and shareholders to absorb losses in failing lenders in the event of a rescue, a process dubbed a "bail-in."
'Enough Leeway'
"We can't do everything all over again every other year," German Chancellor Angela Merkel told reporters after an EU summit in Brussels on Wednesday, adding that the bloc's laws on strengthening banks "offer enough leeway for specific conditions in individual member states."
Italian Prime Minister Matteo Renzi, at his own press conference, bristled at the suggestion that his government was trying to sidestep the regulations. "We never asked to change the rules," Renzi said. "We are not here to be lectured by the schoolteacher."
Carlo Messina, chief executive officer of Intesa, one of the best capitalized banks in Italy, is opposed to any state-aid plan for Italian lenders, according to an interview in German daily Boersen-Zeitung.
The two leaders are facing off after economic stagnation in Italy walloped banking profits and drove up bad loans. European Commission President Jean-Claude Juncker said Tuesday that the EU would protect banking systems in Italy and elsewhere from the current "uncomfortable global circumstances." Analysts and investors say this is precisely why Renzi's government is seizing this moment to act.
Brexit Excuse
"What the Italians were waiting for was an excuse to come up with this -- that's what the Brexit vote has given them," said Olaf Struckmeier, a Frankfurt-based fund manager at Union Investment Privatfonds GmbH, which oversees about 260 billion euros.
While no formal plan has been announced, Italian government officials have been discussing options with their EU counterparts for recapitalizing the nation's banks by injecting funds or using guarantees, according to a person familiar with the talks. The capital would enable the banks to write down bad loans or sell them at market prices.
The bailout idea is the latest attempt by the Bank of Italy and Renzi to shore up lenders. In November, an Italian state resolution fund rescued four small banks under the EU's bail-in regime. Trouble soon emerged because many regional lenders are owned and funded by local businesses, unions, and even households. When they got hit with losses, savers protested outside banks and government offices. One stakeholder committed suicide.
Atlas Fund
Then in January, depositors at Banca Monte dei Paschi di Siena SpA -- which was twice bailed out by the state -- and three other struggling lenders started moving their savings to stronger banks, raising fears of a run. Finance Minister Pier Carlo Padoan failed to to win approval from the European Commission to create a bad bank to buy soured loans from lenders. Instead, he got the nod to guarantee investment-grade tranches of "sofferenze," or bad loans, in securitization offerings. No deals have been completed so far.
Renzi's ministers and central bank officials came up with a new plan in April. At an extraordinary meeting in the ornate finance ministry building in Rome, they persuaded the heads of UniCredit, Intesa, and other Italian commercial lenders to pony up about 4 billion euros to recapitalize weak banks. The fund was dubbed Atlante, Italian for Atlas, the mythic titan who held up the heavens. Amounting to about 1.1 percent of the banking system's non-performing loans, it was soon deemed too small for the task.
Breaching Rules
This week, Italian newspapers and investors are buzzing with what a 40 billion-euro rescue might look like. The aid could take the form of subordinated, convertible bonds, or a bazooka-caliber Atlante fund, analysts speculated.
Cassa Depositi e Prestiti, the Italian state lender that helped finance Atlante, would "play a role" in boosting the fund, Chairman Claudio Costamagna said in a Bloomberg TV interview. Atlante can be recapitalized with additional 4 billion euros to 5 billion euros, the Italian daily la Repubblica reported Thursday.
Howard Davies, the chairman of Royal Bank of Scotland Group Plc and a former head of the U.K. financial watchdog, told Bloomberg TV that Italy's banks will almost certainly need capital from "some state entity."
One thing that's certain is that the moves Italy has attempted thus far aren't working.
"What's happening shows once again that Europe doesn't move in unison," said Jacopo Ceccatelli, the CEO of Marzotto SIM SpA, a Milan-based broker-dealer. "At this stage there isn't a best solution, because allowing Italy to rescue banks would breach approved rules, while not doing that would leave Italian banks abandoned to their own destiny."
— With assistance by John Follain, and Francine Lacqua
(
Updates with Intesa CEO comments in ninth paragraph, Costamanga, Davis in 17th, 18th.
)
Before it's here, it's on the Bloomberg Terminal.
LEARN MORE